UEFA Euro 2020: How IMG is supporting the host broadcast operation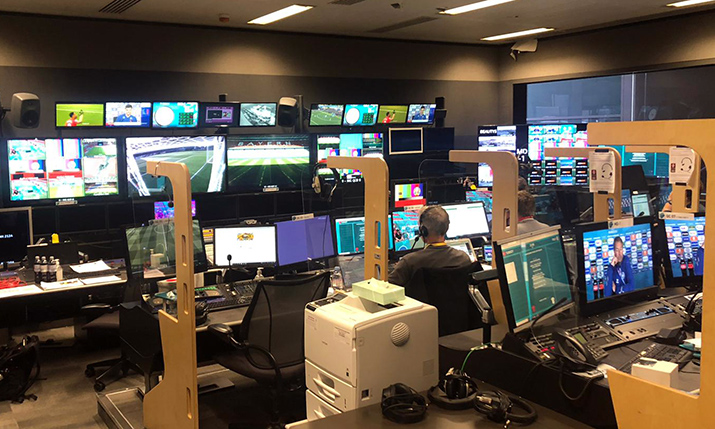 During the European Football Championship (Euro 2020), the global sports content producer and distributor IMG is working with UEFA on the host broadcast operation for the tournament, deploying as many as 300 people to provide technical services, acquire footage and create a variety of different types of content.
Speaking to SVG Europe during the group stages of the tournament, IMG head of engineering Brian Leonard and IMG executive producer Nairn Salter outlined what they are doing, how they are doing it and why.
What technical services are IMG providing for UEFA at Stockley Park in London for Euro 2020 – and how has that set-up evolved or expanded because of the impact of COVID-19?
Brian Leonard (BL): We are providing connectivity onto Eurovision Services' network which consists of two 10GB fibres into IMG Studios. On these fibres we are hosting a UEFA-run production Quality Control Room (QRC) with seven operators. And then there are 20 video feeds from the International Broadcasting Convention (IBC) in Amsterdam.
Throughout the tournament, we are adding the English commentary for most games, with a stats position, and providing a news feed match day -1 operation that is run on IMG's EVS servers. This started with four feeds and now may grow to 12 independent feeds.
In addition, we are using 15 of IMG's Craft Editing suites to remotely connect to "Moovit.de" Adobe Premiere Pro stations at the IBC. Next Unit of Computing (NUC) PCs and Teradici PC over IP are being used to give an 'under the desk' feel to the operation.
We are facilitating another 25+ Adobe stations in a similar way for other areas of the UEFA production, covering digital, radio and graphics.
There are also 100+ desk production positions, allowing connectivity to the UEFA production tools like HIVE via IMGs 10Gig (redundant) internet pipe. Plus two studios to facilitate original promo creations.
How does this fit into UEFA's overall host broadcast operation and why is it set up this way?
BL: We are facilitating the main production arm of the operation where 90% of the facilities are in the IBC at Amsterdam. It was set-up like this because UEFA had to prepare for various COVID scenarios in case countries were forced to lockdown. Working remotely allows them to still offer a solution no matter what COVID may throw at them.
What level of connectivity do you need in order to dovetail successfully with the IBC in Amsterdam?
BL: We are providing 30Gig and we could have provided more, although I don't think we went over 20Gig
What content is IMG producing for UEFA for Euro 2020?
Nairn Salter NS: UEFA and IMG are producing rushes that broadcasters can re-package to meet their own editorial needs, and editorialised features, news packages and statistical match previews that are ready to air. The content supplements what broadcasters film themselves. In a pandemic, travel restrictions mean that many broadcasters may not be deploying as many crews as they may have done under normal circumstances. Now more than ever, this service allows the rights-holding broadcasters to showcase all 24 teams by accessing the content filmed by the UEFA crews.
The content includes: raw editorial content on all 24 teams that is delivered to broadcasters daily. We also deliver two Team Features ahead of every game, that is 102 in total. And then there are Daily Highlights Show; Head-to-Head Stats VTs ahead of every game, Host City Features ahead of every game; Daily Team Reports – 90-second team-related news packages (up to 24 each day); Digital packages and radio content.
IMG is also providing ENG crews – what does each ENG crew consist of? What are they capturing?
NS: Each crew consists of a Producer, a Camera Operator and Media Wrangler. They are capturing interviews with players and coaches, training sessions, and press conferences. Host City crews capture the atmosphere and EURO-related activities in the 11 host cities.
What challenges are IMG facing during Euro 2020?
NS: The biggest challenges are COVID and logistics. For the crews to be able to operate in and around the teams, regular PCR testing is required. Quarantine measures mean it's not been possible for crews to follow teams across borders to games so we have ensured we have crews in place in all of the host countries, and elsewhere for those teams staying at home – Austria, Belgium, Poland, Czech Republic etc.
BL: From an IMG technical perspective this has not been too challenging. We have been working on more complex productions for years, and one game concurrency is relatively easy for us when we consider a normal football weekend we may hit over 40+ concurrency.
UEFA Euro 2020 continues in stadiums across Europe until 11 July 2021
---