UEFA Europa League final 2022: Broadcast facts and figures for Eintracht Frankfurt vs Rangers
Altogether, 32 cameras, including a drone and two in-goal cameras, captured the action at Seville's Ramón Sánchez-Pizjuán Stadium on Wednesday 18 May when Eintracht Frankfurt met Rangers in the UEFA Europa League final.
The camera plan for the match, pictured below, also included six super-slow-motion cameras, four hi-speed cameras, two pole cams and an aerial camera system.
The multilateral match feed, directed by Mediapro's Òscar Lago, was produced in HD, UHD HDR and UHD SDR to rights holders.
It featured simultaneously synchronised and timed UHD HDR, UHD SDR and HD SDI 1080i50 feeds produced from a single production platform. Audio was Full Dolby E and Dolby Atmos
In addition, UEFA allocated the following unilateral broadcast facilities:
68 TV & radio commentary position desks
6 Tribune Presentation Positions
2 Pitch View Studios
12 Pitch presentation & Flash interview positions
27 Unilateral camera positions behind goal
Telefónica was the host broadcaster of the UEFA Europa League Final 2022. Mediapro was the technical provider.
---
Camera plan for Europa League Final 2022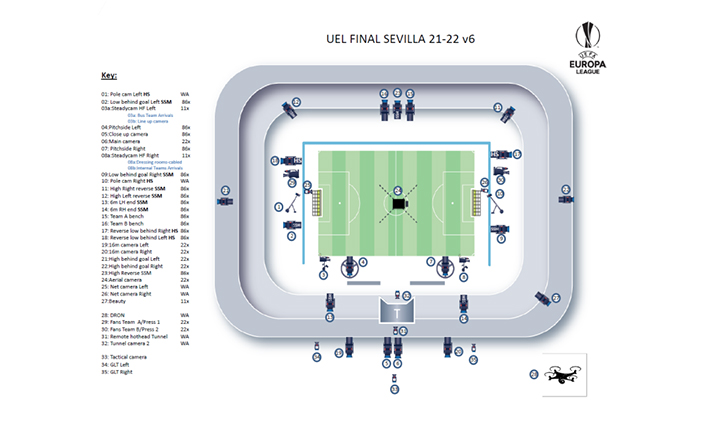 ---