UFC 246: The Switch and Strategic TV bring Conor McGregor's return to the world
The Switch and Strategic Television teamed up to play a vital role in delivering the international broadcast of former UFC title holder Conor McGregor's MMA comeback on Saturday night at UFC 246 in Las Vegas. The Switch provided remote-production services and international transmission, working alongside Strategic Television, to ensure high-quality packaging and delivery of the international language feeds of the event to viewers around the world.
Former UFC featherweight champion McGregor's return to the Octagon against Donald 'Cowboy' Cerrone at T-Mobile Arena in Las Vegas on Saturday was expected to be one of the most-watched UFC events in recent memory.
"Conor McGregor is a huge draw for UFC, bringing in pay-per-view numbers upwards of 2 million — meaning it's absolutely critical that we deliver the highest-quality live coverage and be sure that the feeds will not drop at any point," said Garrett Hunt, project manager, Strategic Television. "The Switch is a trusted partner. They have experience with some of the world's biggest live sporting events, and their remote-production capabilities are second to none."
To bring McGregor's comeback to UFC fans across its biggest international markets, The Switch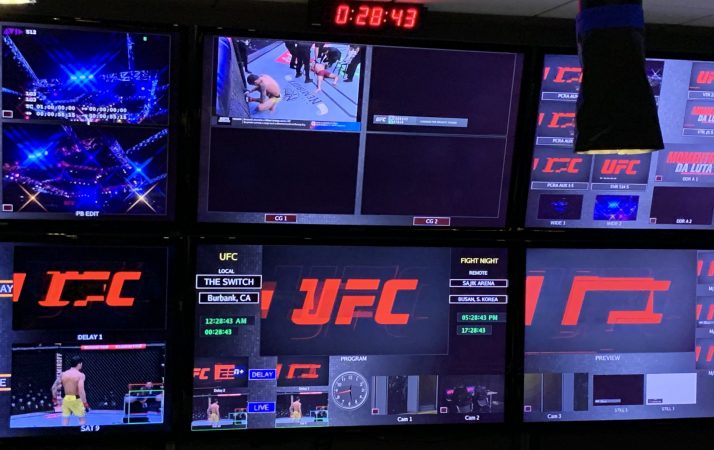 provided a suite of solutions, including live studio production, international transmission, editing, and master-control–room (MCR) services. It delivered both Spanish- and Portuguese-language feeds from two live commentators — enabling UFC to tap into the huge Latin American and Brazilian markets, where the popularity of MMA has exploded in recent years.
Having provided remote production services and transmission of UFC events for more than seven years, The Switch continues to support international-language delivery of major bouts through its studio facility in Burbank, CA, including regular fights taking place on weekends throughout the year and UFC Now events. The Burbank studio receives live feeds from the fight venue, remotely producing them before delivering them globally via satellite downlink.
"Having worked with UFC for the best part of a decade, we are delighted to be supporting it on one of the biggest comebacks in the history of mixed martial arts," said George Lopez, SVP, operations, The Switch. "Conor McGregor's return is a major sports-broadcast moment, and The Switch is proud to be helping UFC bring it to global audiences.
"Our long relationships demonstrate the trust major sports organisations have in our production services and the international reach we provide for the live broadcast of the biggest global sporting events. We take great pride in making it simpler for sports organisations and rightsholders to more efficiently produce and deliver their content."