UFC.TV makes history with UFC 205 streamed globally in 4K at 60 fps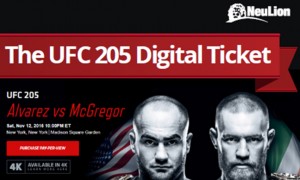 Saturday night's UFC 205 was historic for many reasons. Sure, UFC 205 marked the first mixed–martial-arts event in New York City since a nearly 20-year ban was lifted this year. Yes, it brought one of the world's fastest-growing sports to Madison Square Garden, 'The World's Most Famous Arena.' That's great and all, but it was also a huge night in sports-video production and distribution as the evolution of 4K and the global distribution of the next-generation format took another step forward.
With the purchase of a $59.99 digital ticket, owners of a Sony UHD television set were able to live-stream the event in 4K anywhere in the world, except in China. UFC.TV, powered by digital partner NeuLion, presented the first-ever global delivery of an event live in 4K at 60 frames per second (fps).
"We [were] very excited to showcase this on such a big stage," says Chris Wagner, EVP/co-founder, NeuLion. "I don't know any other service other than UFC that is global over-the-top with a digital ticket in 4K/60. I don't know of anyone else who has done this."
4K/UHD has made its mark in the UK with Sky, in Canada with Rogers, and in the U.S. on selected events though media partnerships with DirecTV. Global distribution of a 4K event, though, is a significant first and points to the advantages present in live-streaming 4K content to smart TVs directly through IP.
NeuLion has done some lengthy testing in this space before, including a pair of behind-the-scenes tests during NBA games played at London's O2 Arena. UFC 205, however, offered a chance to expose that work to the viewing public. Users looking to watch the event in 4K needed to visit UFC.TV and purchase the digital ticket that granted them an access code.
Then, users had to download the UFC app from the Google Play Store on a Sony UHD television set. Once their credentials were entered, they had live access to the event, in addition to the bulk of other 4K on-demand content built around it.
NeuLion delivered the 4K show as an HEVC stream in MPEG-DASH and using H.265. The company's encoder sat in a truck in the compound outside MSG where Mobile TV Group's 39 FLEX 4K truck was on hand to support the event's 4K linear production. From the encoder, NeuLion compressed and backhauled the feed via the Garden's fiber to the NeuLion data center on Long Island. From there, the signal was put into HEVC and HLS (to support the HD stream) and delivered at various bitrates to phones, tablets, PCs, and televisions.
"With our testing over the past year," notes Wagner, "we just believe HEVC is a better streaming protocol for large-scale events when you have high concurrent viewing."
Wagner also noted the slew of data accessible via the digital-ticket model, allowing NeuLion to monitor and improve the viewing experiences. The data obtained through its streaming technology enables NeuLion to track bitrates, frame drops, buffering, etc. in real time.