United, Sony continue 4K test productions with Dutch League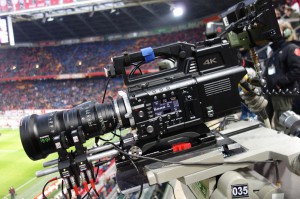 After successfully completing 4K testing at last year's Confederation Cup in Brazil, United Outside Broadcast (part of Euro Media Group), Fujifilm Europe and Sony Professional Benelux teamed up for another 4K test production at last month's Dutch Premier League Football match between Ajax Amsterdam and PSV Eindhoven. A total of sixteen HD cameras and two 4K cameras were involved in match coverage.
Sony supported the live 4K recording with two F-55s and two CA-4000 and BPU-4000s to record a 4K signal, which was used as a HD cutout into the actual programme. Fujinon supported the event with ZK4.7×19, ZK2.5×14 and HK5.3×75 4k high resolution lenses.
Bolke Burnaby, manager Operations & Events at United, said: "Last year our first major 4K production was at a Muse concert using 16 Sony F-55 cameras to fully cover the event from an OB unit. We chose the Sony F-55 because at this time the F-55 is the most flexible 4K camera for our requirements.
"Also worth mentioning was our Santana concert production in Mexico, using a total of ten Sony F-55 cameras with a number of 4k Cabrio Fujinon ZK4.7×90/ 19-90mm, ZK3.5×85/ 85-300mm and a HK5.3×75/ 75-400mm lenses. For 2014 we are planning to cover more events and further develop our 4K production capabilities in a live environment. 2014 will be an exciting year for us."
Burnaby continued: "The Fujinon Cabrio ZK-series are currently the only lenses that fill the gap between broadcast video lenses and cine film lenses. The operational handling is similar to 'normal' HD ENG lenses we currently use. PL mount lens models made by other manufacturers need to be dressed and fitted with separate lens motors: they are more expensive to operate and need more crew to handle them.
"It is very simple," he said. "In film production there is 'relatively' enough time to shoot with 'just' one to three cameras operating – whereas we have 10 and 20 cameras shooting at the same time, and there are no re-takes! This means that we need a solid and fast solution."
Sony key account manager Bas Roelfsema comments: "4K is the next step and has already been used in several recordings over the past few years in the Benelux. Sony is happy to show this new technology because there is a demand for higher quality for consumers and for the cinema screen – and also for new ways of broadcasting such as HD cut-outs. Sony Benelux can clearly see that there is a growing demand for 4K products in the broadcast area and is always willing to help if broadcasters have specific demands."