VAR kick off in Scottish Premiership paves way for expanded QTV remote production facility
QTV, the Glasgow-based outside broadcast facilities and production company, has formally opened its cutting-edge remote production centre on the outskirts of Glasgow.
Clydesdale House will be home to the company's expanded production offices and four state-of-the-art remote production galleries, each capable of delivering up to eight-camera broadcasts.
The centre will also host QTV's dedicated MCR, post-production and off-tube commentary facilities, as well as flexible production spaces for the company's digital and live-streaming operations. The expansion complements a similar growth of the company's outside broadcast fleet.
The announcement comes after the Scottish FA revealed that video assistant referee (VAR) will be introduced to Scottish Premiership football from 21 October. The VAR operations centre will be based at Clydesdale House and is the final part of the centre's operations to come onstream, following QTV's move there in the summer.
QTV has played a critical role over the last twelve months in designing a technical workflow that would provide the best possible platform for VAR's introduction into Scottish football, but at the same time deliver a financially sustainable solution.
CEO Jack McGill explained: "The aim was to help facilitate the seamless and professional introduction of VAR to Scottish football, provide a world-class environment for referees to excel, and enhance the national and international reputation of both the Scottish FA and Scottish Professional Football League. We were conscious of the need to achieve this within a budget that was realistic for Scottish football, so the planning really started four years ago when we first proposed the idea of a centralised remote production facility, knowing that – when the Scottish FA and SPFL were ready for VAR – we'd be halfway towards a solution and that the uplift in cost for the clubs would be bearable.
"Over the last twelve months, we've worked in close partnership with the Scottish FA, SPFL, and Hawk-Eye Innovations to refine the VAR model and successful testing over the early part of this season has given all stakeholders the confidence to accelerate its introduction," he concluded.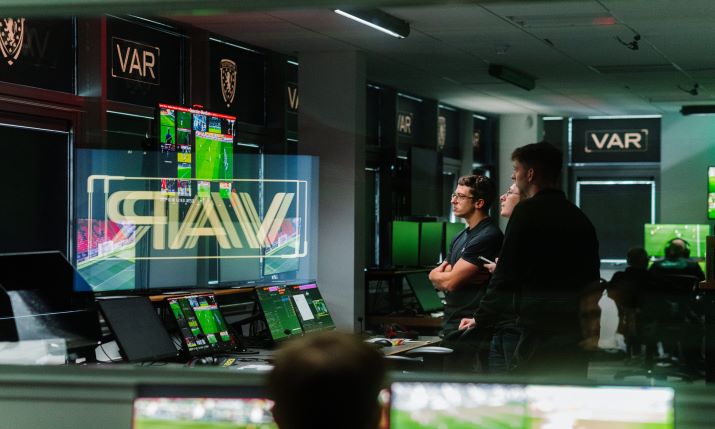 Scottish FA head of referee operations, Crawford Allan, praised QTV's role in helping make VAR in Scotland a reality: "QTV's proposal a year ago was the catalyst for developing a technological solution that would rival other major leagues around the world and which would inspire the confidence of our clubs. QTV, with Hawk-Eye Innovations, deserve great credit for the world class facility they have provided and we are looking forward to introducing VAR on such a sound footing."
QTV has been producing Scottish Premiership coverage remotely for two seasons, but the company's immediate expansion into new premises was hampered by the COVID pandemic in 2020. In the intervening period, the VAR operations centre, where the Scottish FA referees will be based on matchdays, became an integral part of the centre's design and was delivered by systems integration specialists ES Broadcast.
"It has been fantastic to continue our relationship with QTV on Clydesdale House," said Jonathan Lyth, group CTO at ES Broadcast. "The project is the culmination of two years' hard work to support QTV in creating their remote production facilities including the build and migration of the temporary Davieland Court facility – created during the first COVID lockdown – to Clydesdale House. Being able to bring in the VAR element alongside the launch was a great bonus for us and we're really happy to see QTV go from strength to strength."
Clydesdale House now becomes the SPFL's de facto matchday production centre. Over 120 Premiership matches will be remotely produced from Clydesdale House this season. BT Media & Broadcast have also been a critical partner making that a seamless transition. The partnership with BT Media & Broadcast provides extensive connectivity to stadiums and venues throughout the UK, and points of presence globally. Camera signals from all matches ingested via BT Media and Broadcast's network are then distributed as produced match coverage, world, betting and data feeds to the SPFL's broadcast and content partners.
Faisal Mohomed, director of BT Media and Broadcast, said: "Our network has been at the core of QTV's productions to date and we're extremely proud that we can support QTV (and the SPFL) on this next chapter by providing critical connectivity for VAR services. Transitioning customers to our smart broadcast platform, Vena, continues to give further capability across different media workflows. We're looking forward to continuing our successful partnership with QTV, bringing the best content to millions."
With extensive connectivity through BT Media and Broadcast alongside LiveU, Mobile Viewpoint and Cerberus's Livelink for contribution and distribution, Clydesdale House is becoming one of the most connected independent broadcast facilities in the UK.
The name Clydesdale House also provides a nostalgic synergy for QTV co-founder Mike Stanger, who steps down as Chairman this year: "Clydesdale FC was one of the founding members of the Scottish FA and themselves a pioneer of the beautiful game – introducing the modern-day throw-in in 1877. Clydesdale FC, however, emerged from Clydesdale Cricket Club, where QTV was also conceived in 2011. We've come full circle with the Scottish FA."
The introduction of VAR and opening of Clydesdale House caps an extraordinary six months for QTV, which secured its first equity investment in June and then deployed a private 5G network as a broadcast solution for their role in Operation Unicorn – a world first for broadcasting.
With their new facility, the company has also expanded its scope of remote productions to include more international work for World Archery, World Netball, broadcast partners Stan Sports and EBU, and more domestic coverage of the Super6 Championship for BBC Sport and Elite Ice Hockey League for Premier Sports.