VAR trialled during FA Cup tie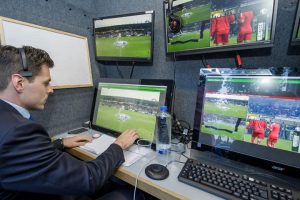 Hawk-Eye Innovations' SMART replay system was an integral part of the technology set-up on Monday (8 January 2018) as the Video Assistant Referee (VAR) was trialled in a competitive club football match in England for the first time.
SMART (Synchronised Multi-Angle Replay Technology) replay, which makes use of broadcast camera feeds, was used during the FA Cup tie between Brighton & Hove Albion and Crystal Palace at the Amex Stadium, with VAR Neil Swarbrick in a studio in London aiding on-field match referee Andre Mariner.
Between 12 and 15 camera angles, and an additional four camera feeds from each goal, were made available via SMART to help the match officials make decisions on game-changing moments.
The Professional Game Match Officials Limited (PGMOL), the group that officiates all Premier League football matches, oversaw the VAR test which is part of an ongoing trial process that has already lasted two years.
PGMOL head of referees Mike Riley told Sky Sports ahead of the Brighton game: "The referees are excited. We want something to happen [so that we can] demonstrate the potential. At the same time, you don't want to detract from a great game of football. We've been working really hard to make it as efficient as possible."
Riley said it would take approximately 30 to 40 seconds for each reviewed decision.
VAR will also be trialled in the Carabao Cup semi-final between Chelsea and Arsenal at Stamford Bridge on Wednesday (10 January 2018).
How will VAR work?
Football's law-making body, the International Football Association Board (IFAB), has ruled that VAR can be used to review goals, straight red cards, penalties and mistaken identity.
Reply operators from Hawk-Eye will work with the VAR who will look at key incidents that happen during the game, analyse the footage and advise the referee if there has been a clear and obvious error.
Using a wireless intercom, the VAR will speak to the on-field referee to let him know there's an incident that should be looked at.
The referee will use a pitch-side monitor to review the decision. Following any discussions, the VAR will make a recommendation. The on-field referee will then have the final say on whether to stick with his original decision or to change it.
The on-field referee can also refer a decision to the VAR if he is unsure or feels a mistake may have been made.
Background to VAR
The Hawk-Eye SMART system is currently being used in Italy in Serie A and in Germany's Bundesliga.
In the latter, up to 21 camera signals are taken from the host broadcaster SPORTCAST's match day coverage and encoded in a Hawk-Eye truck from where various feeds are provided to the VARs.
VAR was also trialled at the 2017 FIFA U20 World Cup and the 2017 FIFA Confederations Cup and has been used in various international friendly matches. In June 2017, during a friendly between England and France at the Stade De France in Paris, French defender Raphael Varane became the first player to be sent off via VAR.
In 2017 FIFA appointed Hawk-Eye Innovations as the VAR technology provider for its various tournaments.
The IFAB will make a final ruling in March as to whether VAR will be used on a more wide-reaching basis, including the 2018 FIFA World Cup in Russia.