Vettel's victory celebration captured with Q-Ball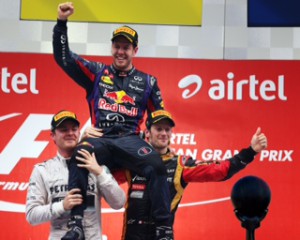 Camera Corps' Q-Ball remotely controlled pan/tilt/zoom equipment was deployed to capture the moment when Red Bull driver Sebastian Vettel's victory celebration was broadcast globally from the Indian Grand Prix motor race on October 27.
It was Vettel's sixth consecutive victory this season and makes him only the fourth man in history to win four titles in the world series. With a total of 10 wins in 16 races, Vettel could yet match Michael Schumacher's record of 13 wins in a single year. Currently driving for the Austrian Red Bull team, he now goes on to race in Abu Dhabi, the United States and Brazil.
Shaun Glanville, business development director of Camera Corps, comments: "Success breeds success. Our aim is to design and build remotely controlled camera systems offering the high-precision control that a driver would demand from a racing car. The images obtained from Q-Ball cameras by many of the world's leading broadcast producers in sport, documentaries, music productions and reality television shows, prove that we have accomplished this ambitious goal and continue to do so."