Video streaming continues to grow rapidly according to CenturyLink whitepaper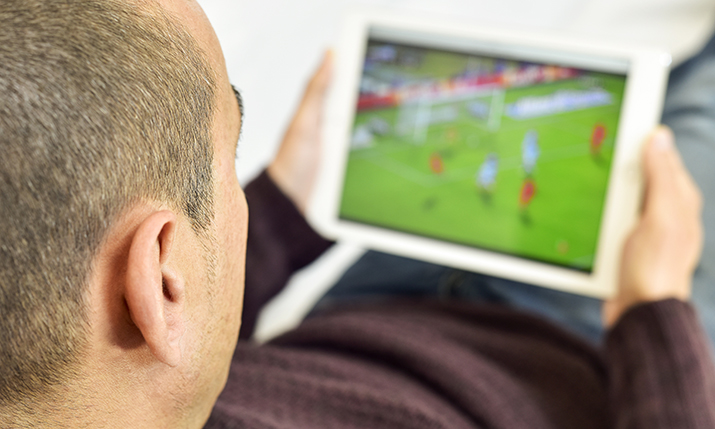 Online viewing is gaining ground on traditional broadcast TV, with a rapid increase in streaming video habits over the last three years.
According to new research conducted by CenturyLink and the Streaming Video Alliance, over 80% of consumers are streaming more video than three years ago and nearly half (45%) of respondents define TV as being delivered over the internet.
The majority of respondents to the study (73%), which spoke to people in the UK, Europe and Scandinavia, have one or two OTT subscriptions; more than a quarter (27%) have three or more subscriptions.
Additionally, the majority of respondents (65%) would be willing to pay extra to legitimise sharing of their streaming video subscription with friends and family. This offers a potential revenue opportunity for service providers, the research said.
Rory McVicar, director of product management, internet and content delivery services, EMEA, CenturyLink, told SVG Europe: "This research demonstrates how online viewing is transforming consumer expectations of what it means to watch TV. Internet delivery has enabled consumer demand for highly flexible, adaptive viewing experiences, across a multitude of different modes of engagement."
However, he had a warning for sports broadcasters: "The research findings reinforce the need for sports broadcasters to harness the power of the latest digital technologies to provide a high quality and immersive viewer experience, whichever screen it is delivered on. As the sports sector seeks to increase viewing engagement with fans, delivering the seamless, bespoke viewing experiences that customers now expect, must be a strategic priority for broadcasters. It is the sports broadcasters who embrace new technology to evolve their offerings to meet the new demands of audiences, who will thrive in this new era of TV."
Despite 50% of consumers using their smartphone for video streaming at least once per day, the big screen remains a core social activity with 60% of respondents watching online content on television at least once per day.
Yet almost half (47%) of respondents indicated they had lower expectations of stream quality when watching content on mobile devices, prioritising convenience over bitrate or resolution.
Respondents reported frequently watching short form content of less than five minutes from social platforms such as YouTube or Facebook; 34% stated they watch multiple times per day.
While there continues to be opposition to ads and other video interruptions, consumers did indicate some preference towards lower monthly subscriptions in an ad-supported model.
The research identified three types of viewer: TV traditionalists; convenience seekers; and demanding streamers.
TV traditionalists are all about the big screen. They might subscribe to multiple streaming services but they hardly ever watch them on anything but devices connected to their television sets. For them, television has been, and will always remain, a social experience. They don't see a difference between video provided through a cable operator or a streaming service and, as such, probably have expectations of streaming quality and reliability similar to traditional broadcast. They are probably far less likely to experiment with innovative features unless there is clear value and don't often take advantage of new features that become available. They simply want to watch TV.
Convenience seekers are viewers that epitomise the OTT marketing language of anytime, anywhere access. They want to be able to watch all of their video, whether it's provided by a cable operator or an OTT service, on whatever device they happen to be using. And they are willing to trade off broadcast characteristics, like quality, for the convenience of consumption. Although they aren't looking for shiny, new features, they are hyper aware of how the OTT services work through their various apps and have mastered getting the most out of each subscription.
Demanding streamers meanwhile enjoy streaming. They often subscribe to more than one service, but they know, as subscribers, they are in the driver's seat now. If one service doesn't meet their needs, they'll find content on another. But it's not just about content, either. It's about the whole streaming experience. From ads to password sharing, these viewers demand that the service conform to their needs. Liberated from the shackles of traditional broadcast, they are ready to tell the streaming service providers exactly the kind of experience they want.
"When it comes to streaming, delivering an exceptional user experience is of increasing importance for driving customer loyalty," said McVicar added.
"Streaming providers must invest in technologies that will provide scalable and reliable content delivery," McVicar went on. "To give our customers a competitive advantage, CenturyLink is advancing the reach and performance of our global content delivery network platform, including offering innovative capabilities such as peer-assisted streaming for a seamless experience during large scale events and peak viewing hours."
The study, The Changing Nature of TV: Understanding how streaming video is changing what consumers think of TV, is based on responses from more than 6,000 consumers in the UK, France, Germany, Netherlands, Sweden, Finland, Norway and Iceland, aged 18 and over.
Read the whitepaper here.