videoReferee video judging systems specified for IHF Handball World Championship 2017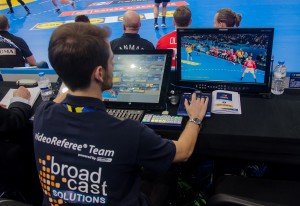 For the 2017 IHF Men's Handball World Championships – which is taking place in France this month – German systems integrator Broadcast Solutions GmbH is providing the technology for the video support of the referees. Together with technology provider Slomo.tv, all of the competition venues have been equipped with the VideoReferee video judging systems, with support from Broadcast Solutions throughout the tournament.
The videoReferee video judging system has been tested and used for years in several sports. The system is already in use successfully in major sports leagues all around the world (e.g.: ice-hockey, canoe slalom, basketball, volleyball) and proved its functionality and ease of use without any failures during competitions. For several years now, all international canoe slalom competitions of the International Canoe Federation (ICF), including the Olympic Games 2016, are monitored by videoReferee systems.
At the IHF Handball World Championships 2017, videoReferee is the overall video judging system with one system located directly at the sideline in each venue. The system uses six system-specific micro-cameras that cover the field: two per goal, one for the overall overview and one for the scoreboard. In addition, the videoReferee system has access to six additional TV camera signals retrieved from the OB Van. Each system can process up to 16 signals, giving referees the possibility to review a situation from different angles. The videoReferee is positioned directly at the time table at the sideline of the field, where the referee is located for the video judging.
During the competition, all signals can be viewed and marked simultaneously throughout continuous recording. videoReferee offers organisers and referees extensive opportunities to clarify controversial situations, thereby ensuring more fairness during the competition.
As an aside, the video judging system videoReferee was used at a large handball tournament for the first time during a test run at the Super Globe 2016 in Qatar. The International Handball Federation (IHF) officials were impressed by the reliability and functions of the system and after an evaluation process, the IHF decided to use videoReferee as the overall video judging system for the IHF Handball World Championships 2017 in France.
In the course of several changes to the regulations that were active first during the Womens World Championships 2016 in Denmark, the situations in which the video judging system is used as the video proof have been extended for the World Championships in France.