Virtual doors open on inaugural IBC Showcase online event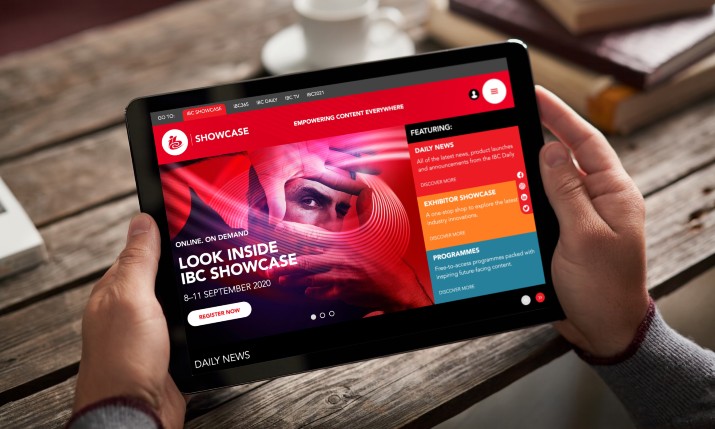 IBC has opened the virtual doors on its inaugural IBC Showcase, an online event that will run from 8-11 September 2020, and continue every week throughout 2020.
Centring on the theme of "Empowering Content Everywhere", the IBC Showcase is a "one-stop-shop" for innovation, featuring three programmes: Content Programme, Exhibitor Showcase and Industry News.
The virtual live and on-demand offering supports some of the industry's leading technology companies and will act as a catalyst for conversations between vendors and customers.
Michael Crimp, the chief executive of IBC, said: "These are challenging times for us all and now, more than ever, IBC has a duty to empower our customers to engage with their audiences and help them make sales, create thought leadership and drive brand positioning.
"Our strategy to make IBC a 365 day a year experience has been accelerated by COVID-19 and we are set on continuing to support the industry through continuous innovation. I believe we are in a unique position to lead the way with a new hybrid approach to engagement; combining targeted online activity with live events, when we can, and giving our customers access to the 150,000 strong global IBC community that we have built and nurtured for over 50 years. I am excited about our Showcase offering, and committed to helping the business survival of our customers."
With three main streams, the Content Programme includes an Exhibitor Programme that brings together eight of the industry's leading technology innovators Dell, Equinix, Firstlight, Imagine, Intel, Microsoft, Red Bee and Synamedia who will host discussions and debate throughout the week.
"IBC Show plays a key role in bringing together the global media and entertainment community, providing a forum for us to connect with customers and partners. In the absence of a physical event this year, the IBC Exhibitor Showcase will be invaluable to us as a platform to share our latest innovations and engage with the wider industry," said Christelle Gental, Vice President Marketing at Synamedia. "We are excited to be running a session together with Ampere Analysis and FIFA on the afternoon of Tuesday 8th September around the theme Outsmarting the Pirates: An Intelligence-led Approach."
There has been strong demand for ongoing programmes in the IBC Showcase extension. Comcast, Fastly and Vast Data are already confirmed to run virtual Exhibitor sessions in the coming weeks.
IBC is facilitating further debate and proof of innovation for some of the industry's hottest topics with the IBC2020 Accelerators programme, bringing together 62 organisations, including 35 champions and 27 vendor participants. Comprising eight fast-track, proof of concept projects, the programme addresses complex media and entertainment industry challenges across business and technology.
The eight Accelerator projects include:
5G Remote Production
TV Delivered as Objects
AI-assisted Shot List Creation of Video Assets
AI in Live Content Moderation
CG Animation Production: New Immersive & Real-Time Workflows
Usable VFX Archive
Virtual & Interactive Live Music Talent Show
5G Centralised Streaming for Location-based Virtual Reality (LBVR)
"The industry is poised for a paradigm shift in the way we approach the business of content creation and delivery. IBC2020 Accelerators is invaluable in developing a shared understanding of how we can collectively drive innovation that unlocks creativity and removes the barriers to delivering services that are both highly agile and compelling," added Mark Smith, Innovation Lead, IBC.
Also part of the Content Programme is a stream dedicated to supporting IBC Show's owners. IBC is run by the industry, for the industry and owned by six leading international bodies – BTS, IABM, IET, Royal Television Society, SCTE and SMPTE – which represent both exhibitors and visitors. Their Showcase sessions will deliver relevant and timely content for everyone involved in content creation, management and delivery.
IBC Showcase attendees will also gain free access to over 1,000 exhibitors via The Exhibitor Showcase. The showcase offers a chance to walk through product demonstrations and workflow tours; learn about cutting-edge technology and tools designed to help create and deliver the best content; and access content from industry leaders about the future direction of the media and entertainment sector.
Looking ahead, IBC has announced the dates for next year's show. IBC 2021 will take place 10-13 September at the RAI in Amsterdam.
Steve Connolly, exhibition director at IBC, said: "The enthusiasm from our exhibitor customers to work with IBC in 2021 is really encouraging. Bookings for our Amsterdam event are strong and our customers are also embracing the opportunities we are creating with our new virtual platforms. The future of events is hybrid and IBC intends to be ahead of the game in giving our customers what they need to achieve significant ROI and grow their businesses."
To find out more about the 2020 IBC Showcase and to register visit: https://www.ibc.org/ibcshowcase