Virtual world reality: Chasing the sustainability dream with the RCCO World eX Championship
Esports, innovation and fighting climate change
The RCCO World eX Championship, a new sustainability-led esports racing series, is gearing up for the third race of its inaugural season which is bringing together a trifecta of esports, sustainability and real-world innovation.
The series is a blend of esports, hybrid real world and virtual world action, including climate change awareness and education, underpinned by a lot of cool technology.
Organised by Racing Concept Cars Organisation (RCCO) E-Sport, a Swiss start up, the World eX Championship combines motorsport, entertainment, innovation and sustainability, led by its founders and chief executives, racing driver Mike Rockenfeller, and Thomas Voigt, a communications expert.
Electric experimentation
eX stands for electric experimental, and that is exactly what this new racing series is about. Voight tells SVG Europe: "We are not only doing the racing, but we are also talking about innovations, collecting money for climate projects and then the world champion at the end of the year will give money to one climate project."
Voight continues: "We would like to push for a cleaner world with mobility, and we are doing this in the world of esports because until now there has not been much electric racing in esports; maybe a little bit from Formula E who are doing what they are doing. But we said, let's do it from scratch, build our own cars so manufacturers can develop their own cars [within our specifications], and place it in this big world of esports and SIM racing."
Voight says that World eX has faced the same popularity issues that Formula E had initially, where detractors failed to see the appeal over existing motorsports. He notes: "Of course we are facing the same problems like Formula E had at the beginning, that people didn't like it because they said, "ah, we need petrol engines," but we are so new and already people are starting to say, "that's cool"."
Virtual world reality
To kick off the series in 2021, the RCCO has developed its very own car in cooperation with video game manufacturer, Studio 397. The car has been created with engineers that have ensured the vehicle could be built in the real world.
"With all the weight, the dimensions, the power; this is all like it could be real," enthuses Voight. "We started working closer together with folks in motorsport a year ago so this car could be built. This is not our aim at the moment; right now we want to stay in the virtual world. But it was important to us."
"If you would have unlimited budget, then you would do [the production] completely differently, with satellite and everything, but this we couldn't afford. So I had to find ways [within] a reasonable budget to do a very good production. That's important"
Voight adds that with co-founder Rockenfeller being a real racing driver, "it was important to him that we are not building a complete fantasy car". Voight goes on: "It has to be a realistic. What we want to do over the next couple of years as real technology progresses [in the real world], we want to [integrate] this into our car as well. We can also be a little bit in advance because of course in the virtual world, you can [make changes to designs] quite quickly."
Using the RCCO's platform, manufacturers can sign up to the series and tweak the designs. With both battery electric vehicles (BEV) and fuel cell electric vehicles (FCEV) allowed, car brands can design unique bodywork, individual dashboard designs, engine sounds and more, using their designs as proof of concepts to see what esports fans prefer for potential cross-over into the 'real' world.
Adds Voight: "All manufacturers are working with simulations so we can get their data from simulations very early and put it in our cars, like a smaller battery, a lighter battery, more range. Also for the manufacturers we are now talking to, they can test the things which are important to their customers in the future, like how does the car sound, and inside – the noise of the electric engines – because now all the car manufacturers now have sound designers to create new fascinating sounds. That's why we created more realistic looking cars – no fantasy cars – more going the DTM or GT3 way from real racing, though the car manufacturers can put their own design language on the cars."
High production values
Aurora Media Worldwide is working to raise production quality overall as well as taking the lead in producing the series' new show, named #RacingForTheClimate. This show is set to attract car manufacturers, which the series is already in talks with, as well as new fans.
The RCCO World eX Championship will reach over 107 million viewers worldwide with a media equivalence of over Euro 22.5 million.
Aurora has created a green screen area in its London studios where the presenter is based. Comments Voight: "It's a quite complicated set up, which caused some troubles in the first show, but they've worked heavily to improve and use different technology for the second one. We have 22 drivers, so 22 drivers sitting all around the world, and their pictures are coming in digitally so it's quite complicated to get all these pictures from all around the world, popping into the system at Aurora.
"Then we are working with Studio 397, the game specialists who make the game and produce the race pictures, and a director sitting in Aurora who's saying who's doing what, and one of my companies doing all the graphics. It's all in the cloud now, and all remote."
"We think the future will be electric and we are now the first, let's say esports championship, really working completely around this topic. When we created this a year ago, we started working on that [concept]. We said we have to go this route with clean energy because that's what is important for all of us over the next couple of years"
One challenge faced in the first race of the series was latency from the numerous feeds coming on from the drivers around the world. World eX's partners are moving everything, "to one cloud where the latency should be less and less a problem", says Voight, who adds, "we're now switching to technology from Vizrt, which is very far ahead in development of remote productions and all the 3D graphical stuff".
As a start up, the production budget is not unlimited as it is being funded mostly by Voight and Rockenfeller. "Mike and myself are mainly funding it ourselves," says Voight. "If you would have unlimited budget, then you would do [the production] completely differently, with satellite and everything, but this we couldn't afford. So I had to find ways [within] a reasonable budget to do a very good production. That's important."
For that reason, "that's why we decided for season one, we are not showing it live," states Voight. "We are recording as-live, but we have the chance to enhance before the show is broadcast two days later. Of course the target is for next year to be fully live, but this [requires] much more investment and technical [ability] and people."
A further area to be enhance going forwards is interviews with the drivers themselves. "We really want to show the drivers and have more interaction with them," Voight says. This was not possible during the first race, but it is a target going forwards, to increase the storytelling potential.
Voight comments on why this is important to World eX: "Normally in SIM racing you just see cars going in circles, but we don't think this is enough to make a good show; we are looking more like an entertainment gaming show with the big racing part, of course, but also a lot of elements and fan engagement, plus innovation and sustainability."
Each race is already being shown on over 60 channels worldwide, as well as motorsport.tv.
Fan engagement comes through social media, where viewers are asked to vote before the event on aspects such as which driver gets to start in pole position, and competitions between drivers answering questions correctly to give a lucky fan some merchandise.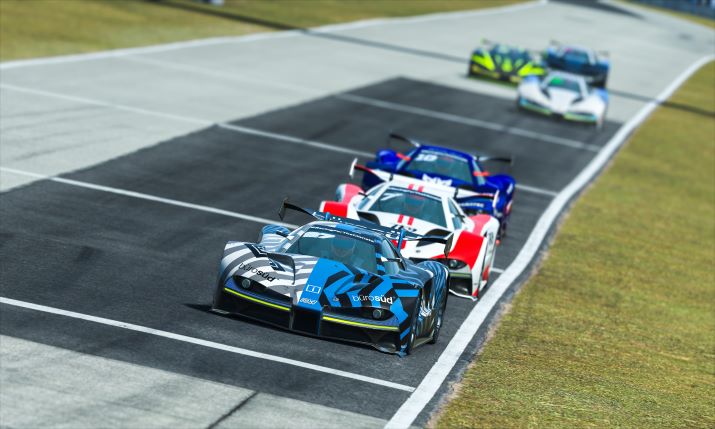 Storytelling with drivers
There are 10 permanent teams in the series, made up of two drivers and two cars per team. One of the drivers is a real world racing car driver, while the other is from esports, which can result in interesting combinations; Voight notes one team consists of racing driver, Frank Biela, a five-time Le Mans winner, who is teamed with an 18 year old esports racer.
"So it's a nice story; [the esports driver] just got his driver's license a couple of weeks ago. We want to tell nice stories. So a nice mixture of technology, of cars, and all the nice personalities. That's what we we're looking for."
The races are designed for both real world drivers and esports experts to give each an equal opportunity, as Voight notes, "we want to make sure that in the final, you have always a SIM racer and a real racer to give [the real racer] a shot because the SIM racers of course have a slight advantage in this world because they are testing and driving day and night". The formula has been proven to work as Danish pro, Lasse Sørensen, won the first race of the new season, states Voight.
Each team has a three year contract with World eX, which means interested manufacturers need to get involved with the series quickly as they need to pick their team from one of the existing 10. However, many of the pro drivers already have existing connections to manufacturers they race with in the real world, which is helping to raise interest.
Clean energy motorsports
As a first mover in the sustainable esports arena, Voight hopes World eX has set itself up to take advantage of the coming surge of appreciation for clean energy use in motorsports. "This is the way to go for the future. That's exactly what we want. We think the future will be electric and we are now the first, let's say esports championship, really working completely around this topic.
"When we created this a year ago, we started working on that [concept]. We said we have to go this route with clean energy because that's what is important for all of us over the next couple of years."
You can follow the third of World eX's #RacingForTheClimate events on 29 April with the eX Prix of Malaysia, Sepang