Vizrt Days focuses on graphics creation, control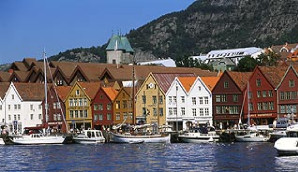 Sports content and graphics creation was the topic of the afternoon for the first day of Vizrt Days, a two-day seminar held by the company every year in Bergen, Norway. Ian Morton, BSkyB special projects manager, discussed how systems like the Vizrt graphics engine, Avid iNews, and graphics systems from Piero, Hego, and Red Bee are changing the way sport programming and news are created and distributed.
One of the hottest trends at BSkyB is presenters' growing reliance on tablet computers like the Apple iPad. Morton says that, increasingly, they want to have an iPad in their hands to control the playback of graphics, data, and even video clips. The challenge, however, is making sure the commentators are comfortable enough with the technology so they can focus on the script and speaking to the audience while also engaging with the iPad and the graphics.
"Multi-touch screens are actually a solution to a lot of problems because they are reliable and faster than single-touch screens," he explains. "But we still need adaptable presenters who can talk and touch."
Telestration, for example, is something more and more talent want to have control of while they analyse sports action. Piero's telestration system, brought into BSkyB by Hego and Red Bee, is being used on a large number of football matches as Monday Night Football coverage gives the presenters access to complete rosters and videos of players that can be called up at the touch of an iPad.
"It's becoming standard to use them for tennis, golf, or motor racing and to insert a new graphic or call up video from the Quantel video servers," he adds. "And now we are looking at larger screens, like the 4K Panasonic 152-inch screen, but they are a bit tall and wide for making it a touch screen. So we are looking at things like radar boxes or Microsoft Kinect for gesture control."
BSkyB does much of its own development, taking products from vendors like Vizrt and customising them. Morton says that, as reliance on Web-based services and HTML grows, the development and customisation of new features become easier and more cost effective.
"We can now get Web developers out of college and have them producing systems quickly," he adds.
Gerhard Lange, Vizrt, chief engineering officer, discussed how Dorna's production of MotoGP racing relies on color codes to help tell the story of the race.
The Moto GP production typically requires more than 110 cameras, with three cameras mounted on each bike along with a gyroscopic camera that remains level during turns. A helicopter camera and pit-lane cameras are also on hand while eight Grass Valley K2 Dyno servers are used for replays and highlights. Two Viz graphic engines, controlled by an application custom-made by Dorna, help fans know how who is who, how they are performing relative to each other, and even data from the can-bus, differential GPS, and lean angles from the gyroscope.
During the race, dynamic graphics are required to help viewers understand the positional changes between the different timing sectors. Color coding allows viewers to know how the racers are performing during each segment of the race and also the odds of one racer's catching another. Red and green color bars can also allow the viewer to understand when the driver is breaking or accelerating.
Andrew Heimbold, Reality Check Systems, president, discussed how the graphics- production process can be streamlined for major sport events. Step one? Remembering that the graphic has to support the story the journalists are trying to tell by explaining complex concepts easily and reinforcing editorial arguments.
"And if you can also reinforce the brand, you are using graphics as an effective tool, and you may even be able to entertain the viewer as well," he says.
The key, adds Heimbold, is having the time to have conversations with the journalists, graphics operators, and others to make sure the graphics best meet everyone's needs. And then there is making sure the graphics can easily and quickly be triggered by devices like the production switcher.
For example, Uppercut, a project Reality Check completed for NASCAR Hot Pass, allowed DIRECTV to provide four dedicated HD feeds that each covered a separate car. Up to 10 live sources needed to be switched, all graphics had to be pulled off a single Viz engine, and a video router as well as the vision mixer and audio mixer needed to be controlled by one operator.
"Two years ago, the live production was moved to DIRECTV's facility in Culver City (CA), and the camera signals are sent via fiber," he explains. "So it's a great example of getting a lot out of the system if the project is approached correctly. And it has an extremely low additional cost of production per channel."
Increasingly broadcasters are figuring out how the first-screen experience and the second-screen experience, on a phone or tablet, relate to each another. Heimbold says the best approach is to bring the same broadcast-production methodologies to the smaller screen.
"You don't want to have to retrain people as the costs are not just the up-front [graphics creation] but also the people that have to travel around the country," he says.