Vizrt integrates with Stype RedSpy for new camera track at ITN
ITN has completed a robotic camera tracking system for the main news studio at its London headquarters. This centres on the integration of Stype RedSpy optical tracking with ITN's existing Sony cameras and Vizrt's virtual studio graphics. The new system, with integration by ATG Danmon, replaces a third-party solution which was nearing the end of its useful life.
"When ITN approached us about their requirement, we discussed this with virtual studio specialist Alex Roriz," said ATG Danmon MD Russell Peirson-Hagger. "Alex is managing director of VanTech, one of our partner companies within the Danmon Group.
"He recommended we consider Stype's RedSpy which had been deployed successfully by several broadcasters, notably for their coverage of the 2018 FIFA World Cup. We researched the various options at NAB 2018 and, following further discussions with ITN and demos at IBC 2018, ITN agreed that RedSpy was the best choice.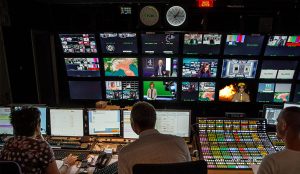 "We worked with closely with ITN and Stype to ensure full compatibility with the Vizrt graphics processor. The graphics system was upgraded by ITN prior to the RedSpy installation. Being ITN's national news studio it was decided that the deployment should take place over a weekend, starting after the Friday night bulletin and completing no later than the Monday morning bulletin.
"The RedSpy integration involved mounting infra-red sensor cameras onto five existing ITN camera systems. Installation began with the placing of new markers across the studio and calibration of the two lens types currently in use. Three sensors and processors are connected to cameras and lenses mounted on pedestals. A fourth system is mounted to a camera and lens on a Jimmy Jib and the fifth fixed to a hand-held camera and lens using a Stype-supplied 25 metre fibre cable, with a remote processor," said Peirson-Hagger.
"Mapping is a vital element of any virtual studio system. This involved moving the camera about in the studio to create a full 3D map of the markers. We then performed final testing of the tracking system and graphics, fine-tuning as the results were evaluated. Finally, Stype provided training.
"The project was completed successfully with the new system on air for the Sunday evening bulletin. The success of the deployment was down to hard work and cooperation between the ITN, ATG Danmon and Stype teams."