Vizrt new hire Sam Leadsom discusses the Winter Olympics, industry trends and why the company is upping its focus on the sports sector
Leadsom has been named commercial director of global sports at the company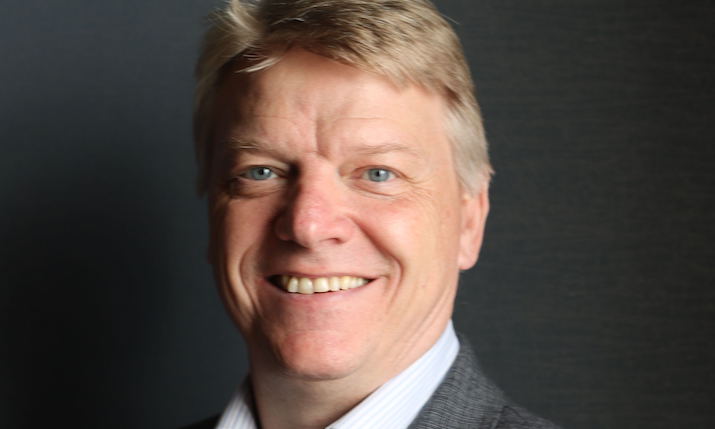 Sam Leadsom, who has today (Monday 7 February) been named as commercial director of global sports at Vizrt, has an extensive background in sports production, working for the likes of IMG Media, Fox Sports and SailGP. He also started the Premier League's 24/7 TV channel and has worked with Sky, BBC, ITV, the European Tour, UEFA and HBS as a producer and director for athletics, tennis, football, cricket, snooker and darts.
This experience has left him perfectly placed to join Vizrt at a time when the company is upping its focus on the sports sector.
"I was attracted to Vizrt, but also the Vizrt Group as a whole entity with the NewTek and NDI teams as well," he explains. "As a collective, it really is an incredibly talented group of individuals that are pioneering innovation in storytelling solutions for the market.
"For this year, there is a specific focus on strengthening its sports solutions which presents a fantastic opportunity for me to get involved in the initial stages to further build upon our standing as a market leader. It should be an exciting year, and I am looking forward to being a part of it."
The company has identified a number of trends that are feeding into this focus on sports, particularly a growing audience desire for more informative, immersive experiences with less complexity, cost and carbon being used in production.
"Already, workflows are being developed where data can travel beside video signals to a production hub, be round tripped in a low latency environment with a third-party specialist XR graphics provider, before finally passing on to distribution via a range of platforms," he says. "Meanwhile, the commentators can be linked in from home studios to a remote gallery that is steadily producing events at scale, quickly and easily.
"The cloud will simplify this workflow further so productions can add services without having to specifically engineer connectivity. This optimisation will allow broadcasters to genuinely choose best-in-class providers wherever they are in the world. Only cloud-based setups allow organisations to spin up new production abilities whenever they are needed and turn it off again when it's not. As a result, cost efficiencies improve, saving running costs, while simultaneously reducing the carbon footprint."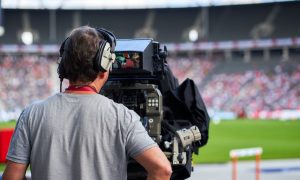 When it comes to meeting fans' demands, the solution is multi-platform, Leadsom believes, "but each platform must deliver a compelling viewing experience. To achieve consistency across the platforms is quite complex, and requires technology companies to offer a range of flexible, scalable and adaptable software solutions that guarantee quality and uniformity. Innovation to bring previously unseen solutions to the market though is in Vizrt's DNA."
He goes on: "Currently, Vizrt is working to approach sports storytelling from a fresh angle, building on its rich legacy of innovation and working with customers to deliver improved outcomes for them, and better experiences for fans," he continues. "The solutions in the sports offering roadmap are focused on remote production, cloud-based production, adaptive and enhanced graphics, automation and sustainability."
He particularly highlights NewTek's 3Play 3P2 sports replay solution which was released last year. "With this, sports broadcasters never miss an angle or unforgettable sporting moment with connectivity and efficiency across the whole production workflow. 3Play 3P2 was also built to be NDI native to offer championship connection with any workflow," he enthuses.
"Vizrt is working to approach sports storytelling from a fresh angle, building on its rich legacy of innovation and working with customers to deliver improved outcomes for them, and better experiences for fans"
The group sees NDI as a content connection enabler for both NewTek and Vizrt solutions. Leadsom cites the Liqui Moly Handball Bundesliga final produced by Sky Germany as an example of the potential it offers: "Sky Germany used the live production solution from Vizrt, comprising Viz Vectar Plus for switching, Viz Libero for sports analytics, Viz Engine, and Viz Arc for graphics, all via the cloud. The Vizrt tools were facilitated by NDI, specifically the NDI Bridge feature, which moved the programme feed from the cloud to the Sky Munich headquarters."
The Bundesliga final was the first time a broadcaster used an end-to-end 5G live production to leverage the NDI Bridge capabilities alongside Vizrt's graphics, analysis and production tools – all in the cloud.
"As NewTek and Vizrt are two key partners for NDI, I have no doubt there will be many creative concepts in sports that utilise the power and capabilities across the brands to push the boundaries of production," he adds.
Vizrt at the Winter Olympics
Leadsom is also excited to see Vizrt products in action covering the Winter Olympics currently taking place in Beijing. For example, BBC Sport has revealed a new studio specifically for the Winter Games. "The technology that drives the virtual studio is a Viz 4 and Unreal Engine integration using the Viz Fusion keyer along with the Mo-Sys camera tracking system," says Leadsom. "Unreal Engine also powers the virtual landscape and rendering and Vizrt's Viz 4 and Viz Arc provides the control of the studio, including AR elements.
"This is just one example in an endless stream of studios utilising Vizrt solutions. The teams will be working around the clock to ensure success – both through new product releases and our dedicated customer success teams around the world supporting the broadcasts. It's a huge year for sports, which means an even bigger year for our customers and a challenge for us. The challenge of continuing to redefine standards in sports storytelling to ensure the world's biggest broadcasters can bring more stories, better told, to fans across the world."