Vizrt's Nelson reveals AI Keyer and Virtual Stadium plus NewTek R&D roadmap
SVG Europe sat down with Vizrt Sports head of EMEA Thomas Nelson to discuss a range of current topics. These included the company's response to COVID-19; new 'NAB-time' products and tech announcements for sports broadcasters; how the acquisition of NewTek announced at NAB 2019 has evolved to its first anniversary; and the emergence of Vizrt Sports as a distinct entity with the Vizrt Group.
We began by discussing the coronavirus crisis, and how Vizrt Group is currently taking care of its own people, business and customers.
"These are challenging times for all of us," said Nelson. "At Vizrt first of all we're taking care of our staff, so that we can maintain a proper operation for all of our customers.
"With lots of our own teams now working from home we are pretty much fully functional, and we're still developing and supporting all our customers with 24/7 support around the world – making sure that we can be there for our customers now that they may have less people on-site at broadcast facilities and probably needing more than normal in additional set-ups for their home offices in order to work from home. We are doing our best to be a partner for all our customers.
"And being a software company we are of course keeping up our development from different R&D centres and making sure we are able to change our roadmaps on a short-term basis so that we're relevant to what is happening in the world at the moment and in the challenging months that we might have ahead of us," said Nelson.
More specifically, how is Vizrt enabling sports broadcasters to produce content at this time, when live sports events are being cancelled?
"What we've done in the last few weeks is talking a lot with our customers, service providers and partners to see what they might need right now and in coming months as this is evolving. We got great feedback and we have a very strong product team that is now looking at how we can use products differently from our portfolio, maybe with some tweaks to adapt to the situation.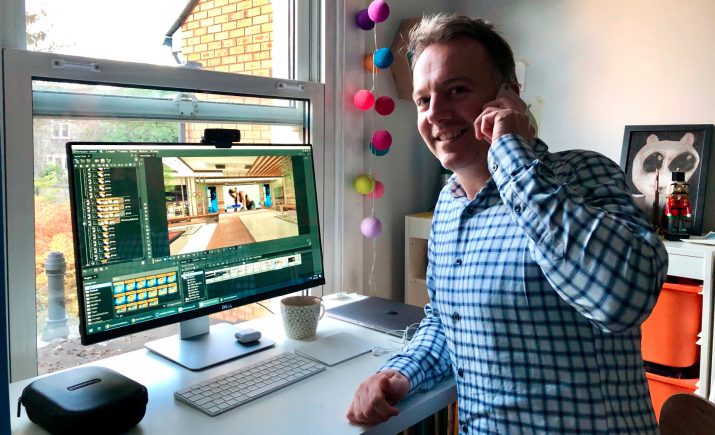 "One of these is around utilising archive material. Lots of our big sports partners have huge amounts of archive material that they're now using to fill gaps in the live sports broadcast schedules. And in fact rights owners are now opening up rights to more outlets and spreading them to broadcasters who might not normally have the rights in their portfolio. I think everyone is trying to help to keep sports fans engaged and satisfied as well as they can.
"We are helping for example in using Viz Libero for archive material, maybe revamping it post-games to be able to re-analyse and go deeper about certain players or managers or teams, where maybe they don't have time in their normal season to go into that depth. Now there's plenty of airtime to focus on those things.
"Another development is around if you are re-scheduling a game: there are ways of using Viz Arena to insert additional new advertising into previous games, using our image-based tracking solutions.
"Then we're looking at what will happen if the federations want to go ahead and finish the European football seasons which are still pending. The topic there is around ghost games, ie playing matches without any spectators at all.
"When that happens (nobody knows at the moment), we have ways of using Viz Arena to insert virtual graphics so we can place something to enhance the product where you're now just going to have empty stands in the stadium. This could be around virtual advertising, social media interaction with the fans, or sponsorships in the stadiums.
"The final point there is that, for sure, we're going to see an increase in remote production – which was already happening before COVID-19. There's a lot of exciting stuff coming from us around remote production and automated remote production, on which we are working hard at the moment."
Moving on, what is Vizrt's view of the postponement of NAB – which of course now has become the cancellation of the show this year.
"We're obviously very sad to see the cancellation of NAB this year and hope it will come back stronger than ever next year. What we are doing in response is to launch VizrTV and NewTekTV, which are digital platforms to showcase our new technology and product updates and to help convey the messages we would have given at NAB.
"These platforms are going live on 18 April. We'll use these platforms for all the latest news from ourselves, using our own tools of course to make these productions shine.
"For example we've already lined up two interviews for VizrTV, the interviewer being your chief editor Jason Dachman from SVG USA. One is with Craig Barry, EVP & chief content officer for Turner Sports, looking at the deployment, and fan reaction to, the Virtual Shot Clock during NBA games on 'The NBA on TNT'. Viz Arena is the solution that makes the Virtual Shot Clock possible. The Virtual Shot Clock was developed in partnership with Turner Sports.
"The other interview is with Michael Raimondo, director, Media Asset Management, PGA Tour. The topic discussed is how the PGA Tour is leveraging its vast archive of past golf matches and player interviews using Viz One, Vizrt's MAM solution, including Tiger Woods looking at past Masters and Ryder Cup championships and analysing those events using Viz One."
Let's talk about 'NAB' advancements: what are some of the specific things you would have been planning to introduce to the market this month?
"The first one is our new AI Keyer for the Viz Arena product. This is something we have worked on for quite a while in our development teams, to be able to have a more adaptable keyer for different conditions for live sports. Viz Arena covers any live enhancements you want to do for live sports such as virtual graphics on the field itself or AR graphics you are using to tell the story during the production or to provide stats on the field.
"As we all know there are quite often differing weather or lighting conditions during a live outside match, so we have built an AI Keyer for Viz Arena to be able to deal with these different lighting conditions during a live game. This is of course automated, so there is no operator needed to work with this kit.
"And particularly as this is using image-based tracking technology, it means it can also be remote of course. The system does not have to be on-site at the stadium; this can all be done from your studio or playout centre.
"More for magazine shows we have an upgrade on Viz Libero, where first there is support for a wide range of workflows including IP-based workflows and setting the path for both HDR and UHD productions as well. This is not perhaps the 'sexiest' upgrade to announce, but it's very important to provide flexibility for all the workflows our customers have.
"And on the more visual side for Viz Libero we're adding a new Virtual Stadium feature, which can enhance our Libero AR allowing you to show your post-game analysis as an augmented graphic inside your studio and now also gives you the ability to add a virtual stadium to it. This gives fans a new 'virtual bird's eye view' of the action on the pitch."
Of course with Vizrt Group you're now approaching your first anniversary with Vizrt, NewTek and NDI. How do you reflect on the integration and the progress made during your first year?
"Yes we announced at NAB exactly a year ago the acquisition by Vizrt of NewTek. It's been a very exciting year for both of us, and they are now part of the Vizrt Group.
"I know from the product managers and development teams there has been a lot of effort and very interesting conversations about how we utilise the best of both technologies and also creating new products.
"Although times are tough right now I'm very sure that sports will bounce back heavily in the next few months so that we can start using some of the solutions that we have ready"
"We already launched a few new products from that collaboration, including Viz Verdi and Viz Vector, which are both around automation. I know there's more cooking from the combined R&D centres. Watch this space.
"Although we might have had very different markets in the past, we still had the same vision that we are software companies and fully committed to IP going forward and to helping our customers telling the best stories – simple as that."
Finally, Vizrt Sports has emerged as a new global sub-brand of Vizrt Group. What does that mean to the customers?
"This is also something we launched in early 2019, having our own department within Vizrt called Vizrt Sports. This simply came from a more focused strategy from the Vizrt Group.
"Sports has always been one of the main segments of our business and a very important one. We look upon ourselves as being an innovative company, and sports broadcasters are always the ones trying to go for something new – for the next season, the next World Cup, the next tournament. This is where they push us, and we try to push them as well in coming up with new solutions.
"So from the Vizrt side it was really just to make it more formal that we have our own Vizrt Sports department all the way from sales to research and development, so that we be more agile in helping this important customer segment and have a dedicated team solely looking at sports customers.
"I think we've done a pretty good job so far: and although times are tough right now I'm very sure that sports will bounce back heavily in the next few months so that we can start using some of the solutions that we have ready."