Warner Bros. Discovery strengthens winter sports offering with new deal to screen best of biathlon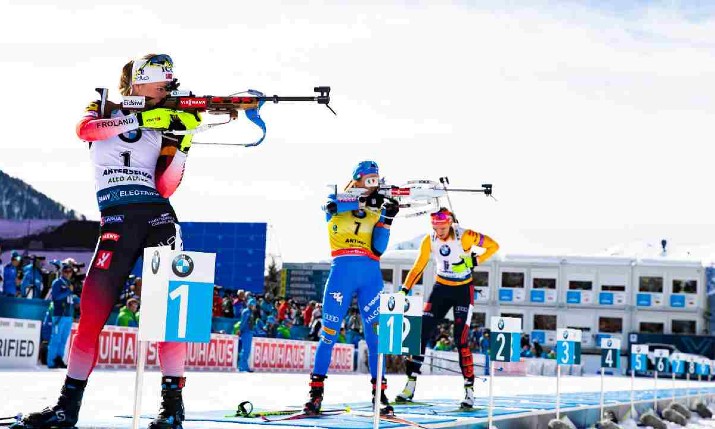 Warner Bros. Discovery has agreed a new multi-year deal with EBU to screen all International Biathlon Union (IBU) events, starting this season.
The deal encompasses 44 countries and territories across Europe and the Asia-Pacific region (excluding China) and means viewers watching on Warner Bros. Discovery platforms – discovery+, Eurosport and Eurosport app – will be able to watch every men's and women's IBU World Cup event.
The IBU World Cup starts in Kontiolahti, Finland (29 November-4 December) and the next edition of the annual Biathlon World Championship is set to take place in Oberhof, Germany from 10-19 February 2023.
With this announcement, fans will be able to enjoy 1,100 hours of live winter sports action from over 190 events during the 2022-23 season, complemented by extensive coverage across Warner Bros. Discovery's digital platforms – including Eurosport.com – ensuring every angle is covered from every corner of the globe.
Warner Bros. Discovery vice president, sports rights acquisitions and syndication Trojan Paillot said: "Our deep winter sports heritage and expertise has seen us bring the biggest moments in biathlon to fans for more than 30 years. We also possess a proven track record of engaging wide audiences around the best winter sports events, such as reaching a record number of viewers for an Olympic Winter Games, while telling the stories of winter sports events and athletes all year-round as part of the most comprehensive live content offering.
"We are pleased to agree a new long-term partnership with the EBU to ensure the world's best biathlon events remain on our channels and platforms for the widest possible audience to enjoy for years to come."
IBU secretary general Max Cobb said: "We are delighted to see Eurosport continuing to bring the BMW IBU World Cup Biathlon and World Championships to our fans across Europe. The athletes bring thrilling performances creating unmatched drama in every competition, making biathlon truly must-see TV."
Pascal Fratellia, commercial director of Eurovision Sport, said: "We are delighted to partner with Warner Bros. Discovery to bring the excitement of the biathlon to an even greater audience across Europe and beyond, complementing the fantastic coverage of the EBU members.
"Biathlon has been one of the great winter sports success stories of the last few years, and we are proud to have played our part in that success as the IBU's media partner since the very beginning."
Warner Bros. Discovery Sports already enjoys a deep heritage in biathlon having first screened the discipline over 30 years ago via its premium sports brand Eurosport.