Wireless camera challenge for Broadcast RF at The Open in Royal Liverpool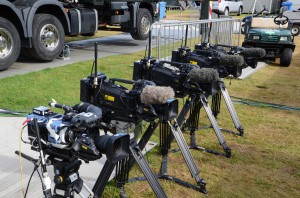 Mark Twain once remarked that "Golf is a good walk spoiled". Most enthusiasts will not consider that as the reason they either play or watch the game, but Twain's comment does highlight the fact that it does involve a lot of walking. The total distance to get round the 18 holes of the Royal Liverpool Golf Club course at Hoylake, venue for this year's Open Championship, is 7350 yards in golfing parlance and 6.72km/4.17 miles to everyone else.
That's a lot of ground for the players, caddies and spectators to cover but in some respects it's more challenging for the broadcast technical crews covering the event. Because of this, wireless technology is a major part of the coverage and this year radio camera specialist Broadcast RF made its first appearance at an Open, sub-contracted to new OB facilities provider CTV Outside Broadcasts.
Broadcast RF supplied a total of ten wireless systems: eight to the BBC for both the world feed and its own domestic output ,and two for TV Asahi. The Sony camcorders used for the BBC included four handheld units following the play; and three specialist systems of a X-Mo high-speed camera, a jib-mounted unit and a Steadicam on a Segway to track players from the greens and tees.
Broadcast RF's technical director, Mark Houghton, was lead engineer on the radio camera operation and explains that this production differed from other golf coverage the company has worked on in the past. This has included the European Tour and the Ryder Cup but Houghton says this was the first time Broadcast RF "has worked on the Open for the BBC or anyone".
The Open differs from other golf tournaments in that several restrictions are placed on what broadcasters and facilities companies can do during the event. These include keeping down the number of TV crew that can work in specific areas of the course. The aim of this is to keep broadcast personnel away from the tees and greens – and so out of the picture – as much as possible. The major effect of this is that where usually a camera team would consist of two people – an an operator with a technician holding the RF antenna – there can be only one person running both the camcorder and wireless set-up.
Houghton comments that as Broadcast RF was making its debut on the Open, it wanted to improve on what had been done before. To do this it used new MPEG-4 wireless camera systems based on the Vislink L1700 transmitter and L2174 receiver-decoder. "It's lighter than previous systems and has lower power consumption," he explains. A custom mounting was designed to allow the antenna, power amplifier and transmitter to be fitted to the camcorder in a small, neat package that enabled the operator to get round the course to get the shots.
The slight drawback to this arrangement was a limitation on transmit power, which reduced the signal range. This called for a higher number of receiver locations round the course to ensure that pictures could get back to the OB base. A site survey identified eight positions were needed to cover the whole course and practice range. These were designed to be wide-band, with all ten mobile cameras and receive antenna fed to the TV compound using a RF-over-fibre system integrated with Hoylake's permanent fibre cable network.
Houghton says all ten camera frequencies were carried in a single band in adjacent channels, something that ordinarily he would not be keen on doing. "But we worked with Arqiva PMSE [which manages spectrum for wireless camera and microphone use] and the system was powerful and efficient enough to do it."
Control of the camcorders was based on Videosys' data system using standard Sony panels. The wireless system also included components designed by Broadcast RF. Among these were an RF router control system and a GPS tracker so that everyone would know where the camera crews were at any time. "The monitor system allowed us to see everything on a single screen," explains Houghton. "One of the advantages of that was that when it came to changing crews they knew exactly where to go, because sometimes it's not clear from the pictures where someone might be. It saves a lot of time and effort."
Which is something Mark Twain might have approved of after all.