2018 FIFA World Cup: Inside look at Fox Sports' Russia set-up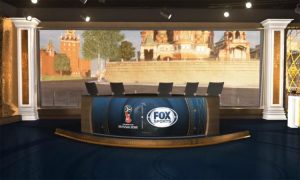 Ever since launching in the early 1990s under the charismatic direction of president David Hill, Fox Sports has made a habit of shaking up and disrupting the sports-media business in the U.S. You could say it's in their DNA.
Today, that tradition continues as, for the first time in network history, Fox Sports will carry live English-language coverage of the FIFA World Cup for audiences in the U.S. In October 2011, Fox raised eyebrows by ripping the U.S. rights to the FIFA World Cup away from longtime incumbent ESPN/ABC, beating out NBC to do so.
More than 6½ years later, the highly anticipated moment has arrived; and Fox is ready to roll with an impressive production effort in Moscow and around the globe. Fox will carry every match live across Fox broadcast, FS1, and Fox Sports Go from today through the tournament final on July 15.
A lot will transpire over the next month, and, undoubtedly, Fox Sports will experiment in terms of programming and technology in some interesting ways. But, for now, on the opening night of the 2018 FIFA World Cup, here's a quick look on the production efforts expected from the broadcaster.
Red Square Studio's iconic backdrop

The crown jewel of Fox Sports' production efforts at this World Cup is its ambitious 27- x 35-ft. studio set erected in Moscow's Red Square.
The set features eight Sony HDC-4300 cameras, including four robotic cameras that can move around flexibly to capture four host positions on the set. There's also an automated jib, provided by Studio Bot, that can swing on a 240-degree range.
Also, as announced by Sony at the NAB 2018, Fox has built its structure around a massive, cutting-edge Crystal LED display screen. It's a 1.26-mm LED surface that offers 180-degree viewing angles and provides another eye-popping backdrop for producers to use in addition to the natural views of St. Basil's Cathedral.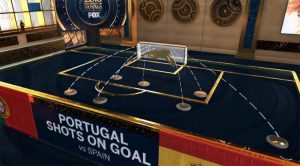 The set also features a fully interactive touchscreen, which uses graphics technology from Vizrt and advanced data and analytics from Deltatre and Astuce Media to create the surface. Fox can throw everything on it, from traditional video highlights to positional heat maps, show charts, and more to break down match action.
The Red Square studio will have plenty of augmented-reality elements, too. Fox is working with Vizrt on those systems as well.
IP's key role at the IBC

In addition to its Red Square set, Fox Sports will naturally have positioned many of its resources at the International Broadcast Centre (IBC). The custom-built structure hosts the operations for Host Broadcast Services (HBS) and all the international rightsholders for the event.
The guts of Fox Sports' onsite operations are at the IBC, including the control room for the Red Square set; more than 100 channels of ingest for ENG, features, and archive; and more than 144 channels of live replay and ingest from EVS.
There will be lots of IP signals following in, through, and around Fox's position in the IBC. IP will connect the IBC to the Red Square set and to facilities in the U.S., including its Los Angeles broadcast centre, which will heavily support the overall effort. IP will also be used to deliver video and audio signals from each of the 12 venues to the IBC.
Match-Coverage partnership with HBS
Like all international rights holders, Fox Sports will be taking the live match feed from FIFA's HBS.
For each match, HBS has 37 manned cameras in and around the venue, including eight super-slow-motion units, two Steadicams on the touchlines, two cranes behind each goal, two mini high-frame-rate cameras atop a pole behind each goal, wireless roaming cameras, a cable cam, and a helicopter aerial. There are also more than 80 microphones on each pitch.
Fox is also taking HBS's UHD and HDR feeds. It will offer all matches in UHD HDR to U.S. audiences through its partnership with DirecTV.
Content management support
To handle the huge amount of content that will be pulled in by Fox from HBS, the Red Square set, ENG crews, and other sources, Fox has deployed a robust custom content management system from Reach Engine by Levels Beyond. It connects three separate media storage systems, including a heavy footprint from AWS Elemental.
Other custom products from Aspera and Telestream will also be used throughout Fox Sports' infrastructure to integrate cloud resources and encoding. With Aspera FASP stream, Fox Sports editors in Los Angeles will be able to directly chop up, enhance, and deliver content to and from Russia through 10-Gbps connectivity. The AWS backbone will be used for viewing and transferring all content for the content management system, including deliveries for air back to Russia.
The overall system is scaled to move more than 25 TB daily from Moscow to Los Angeles.