World's first Cinebot tennis match served with Steve Giralt's The Garage
Over the summer MRMC got together with long-time collaborator and Bolt super-user Steve Giralt to create a series of concepts that demonstrate how fast the Bolt family of Motion Control robots can be and also to develop something that hadn't been done before. A few creative sessions later, the world's first game of cinebot tennis between two Bolt cinebots was proposed.
The speed and accuracy required to play tennis are the ideal set of attributes needed to demonstrate the capabilities of the Bolt. It was important to ensure the robots did an actual rally without resorting to any post production trickery, so the match was choreographed and tested using Flair, MRMC's motion control software following a few weeks of testing prior to the shoot. View the video here.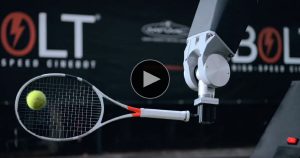 The shoot took place at David Lloyd's tennis courts in South London and was directed by Steve Giralt's new production house The Garage. Producing and running the motion rigs was the MRMC crew capturing Giralt's vision as well as delivering the shoot under difficult conditions when the inevitable British weather kicked in.
MRMC was also supported by the team from Love High Speed, on hand to capture the high speed and slow-motion action using its Phantom high-speed cameras. Bolt X was used during the match to capture some fantastic sweeping shots of the robots rallying over the net.
After the triumph of the robot rally, once the final ball had been hit and the racquets packed away, Giralt was able to reflect on what had been a unique, and successful shoot:
"This was an incredibly challenging task when I reflect back on it. Hitting an 8" circle with a 2" ball from 80' away, at an exact moment in time after hitting another 8" circle was insane! Especially fighting the elements and the rain. But I have to say that the Bolt cinebot robots made it possible. Their accuracy and repeatability performed as expected and allowed us to be triumphant."
Dan Brooks, senior marketing manager for MRMC said: "The Robot Rally tennis shoot was a perfect marriage of Steve's creative vision and MRMC's technical engineering capabilities. We knew that we could deliver this incredible sporting spectacle using our Flair software's precision combined with Bolt's high-speed accuracy. We needed to achieve something truly original – it's not every day you see two robots playing tennis – so we're proud of the content that Steve and the teams at MRMC have served up."