Young SRL creates new Dolby 5.1-equipped mobile control room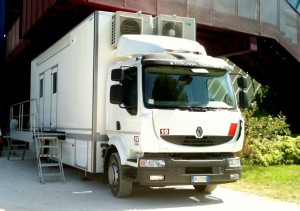 Italian OB and AV provider Young SRL Broadcast & Video continues to respond to the demands of the market in terms of cost and quality optimisation, as well as by developing technical and artistic expertise 'in-house'.
From a technical perspective, market requirements have lately been answered by the development of a new Dolby 5.1 audio main control room for major events, including concerts and sporting fixtures, for which surround sound is becoming increasingly pivotal.
This latest mobile unit is part of a fleet that comprises OB vehicles of various sizes to adapt to a variety of needs and locations. Young Unit 10 is operating up to eight cameras full HD. Unit 9 can handle four cameras in HD and create a double chain of satellite transmission. Unit 2, meanwhile, is proposed as a mobile control room based on three cameras in SD, while Unit 7 always shoots in HD with six cameras. The line-up is completed by a single SD camera configuration called Unit 4 which integrates RVM and editing.
"The basic idea of Young," says director Andrea De Gioia, "is being able to always provide the most suitable vehicle for any event without impacting the increasingly tight budget the broadcasters propose." This also derives from having noticed that broadcasters in recent years have often used some light vehicles defined as 'evolved antennas', SNG style, based on the use of one or two cameras. In practice, Italy has seen a rise in the need to have images available immediately, produced by means of light vehicles that are also capable of conveying the images immediately shot via satellite. This involves the integration between the shooting and the satellite transport, including of medium-sized vehicles with up to four cameras.
De Gioia explains: "These are, indeed, suitable means for certain tasks, but not enough for many others, when the event requires a certain size; and it is no coincidence that our two top-of-the-range vehicles are the biggest, Unit 9 and Unit 10 (completed only a few months ago). These OB vans shoot TV events in full HD and are large, very powerful [and] thoroughly equipped. Just the Unit 10, for example, is composed of three operating environments, as well as the multi-channel audio recorded in Dolby 5.1."
The fleet available to Young is very rational and extensive, and it is not by chance that an existing mobile vehicle, Unit 2, was recently converted into a more dedicated sound recording facility, with a far more extensive spec than those normally found on board OB vans. Dozens of microphones often need to be managed, and having a dedicated production place to move to venues is definitely an advantage.
The aforementioned Units 9 and 10 are often used for the most important football tournaments in Italy and abroad, such as integration for Europa League football matches, commissioned by Mediaset, with three cameras. In addition to the official host broadcaster pictures, Young's cameras increase the level of interest and visual spectacle with images and unusual views captured on the sidelines and in the locker room. They are also used to produce interview material broadcast by Mediaset before and after the games.
Thanks to Young's Unit 10, Mediaset has created a customisation involving the spacing out of the images of these three cameras with the clean feed distributed by the official television network. DeGioia stresses that, for the personalisation on the field, Mediaset sends on the vehicle of a journalist in charge and a director, who are responsible for cutting the images and other content. Sometimes in these cases, a completely different configuration is used in which the customised signal already mixed with the supplementary cameras travels in parallel to the "clean" feed of the host broadcaster up to Mediaset's control centre in Milan. There, the Mediaset team has the task of selecting and integrating the two types of feeds and shots: official and customised.