IBC 2018: Clear-Com presents InSite software toolset for FreeSpeak II installations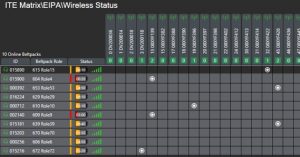 Clear-Com has presented InSite, an intuitive and powerful software toolset for optimising and monitoring FreeSpeakII wireless intercom installations.
Designed to operate with the award-winning FreeSpeak II roaming, license free wireless beltpack system, InSite provides both Eclipse-HX and FSII Basestation operators with an intuitive user interface to monitor, control and record FreeSpeak II Beltpack and Transceiver activity.
Fully integrated into the new EHX v10 application and CCM for the basestation, InSite features a dynamic grid layout which shows beltpack to transceiver hand-overs together with a real-time display of beltpack telemetry information, including battery level, signal strength and connection health. Additionally, the system charts both handovers and beltpack telemetry data in real time.
"For wireless intercom systems to achieve optimum performance and coverage, especially in challenging RF environments or in widely distributed installations, good transceiver location is essential", said Peter Stallard, senior Product Manager, Clear-Com. "With our InSite charting tool, commissioning and sound engineers can now use the added dimension of time to track beltpack activity and performance over short or long periods, leveraging its innovative chronological view of telemetry data. InSite enables efficient optimization of system performance."
Clear-Com is present at IBC 2018 in Hall 10, Booth D29.