IBC 2018: Masstech Innovations concentrates on content storage issues
Masstech Innovations, the technology company that provides the media and entertainment (M&E) industry with optimised content storage management solutions, today announced its presence at IBC2018 will focus on showcasing a number of new initiatives designed to help video-centric organisations to create truly optimised storage solutions, utilising the very latest cloud and hybrid technologies.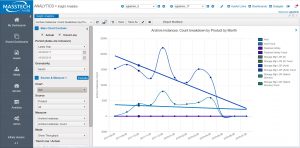 Using the industry's flagship storage and workflow management solutions, FlashNet and MassStore, these initiatives emphasise Masstech's position as the only truly agnostic M&E storage vendor, offering independent and unbiased solution advice that addresses customer requirements.
"Masstech has always prided itself on providing the media and entertainment industry with the best advice to meet ever-changing, complex content storage challenges. As the proliferation of content continues, the industry needs clear, unadulterated direction on how to adopt simplified storage processes that increase the ability to share and collaborate, reduce total cost of ownership and maximize the latest technologies, all while trying to avoid unseen pitfalls and expensive vendor lock-ins," says Joe French, CEO at Masstech.
"At IBC, we're looking forward to discussing future-led storage solutions that are not driven by any requirement to sell specific hardware or consumables. In fact, we are inviting visitors to our stand to find out how they can even reduce their storage hardware requirements and reclaim some of their IT footprint by embracing hybrid technologies," adds French.
Demonstrations on stand 7.C55 will centre on FlashNet, Masstech's much-trusted media object storage application that adapts readily to growing and changing organisational and business requirements. A highly scalable and secure cross-platform content management system, FlashNet integrates seamlessly with leading MAM, PAM, NRCS, automation, video server, and library systems to improve the efficiency of media organizations' storage. FlashNet optimizes content management, using programmable, rules-based movement workflows that ensure that content is always stored in the most cost-effective and operationally efficient location.
Designed to meet today's multi-choice storage environments, FlashNet is an agnostic solution that can be deployed on-premise, in the cloud, or in a hybrid configuration. The system's flexibility, backed by Masstech's expertise and experience, allows M&E organizations to implement storage environments that remain secure and fully optimized for all asset types, regardless of near- and long-term changes to content, business, and operational requirements.
Also on display will be MassStore, Masstech's media services framework for advanced applications. MassStore features a collection of services that together provides powerful media management functions and workflow automation. Built-in integration management also simplifies accommodation of disparate systems from multiple vendors.
Boasting unique agility and intelligence, the MassStore media services framework allows for rapid deployment of customisable workflows. Integrated transcoding capabilities and support for all major wrappers and codecs allow for flexible generation and management of proxies, metadata, and thumbnails. The solution can easily be scaled to meet media organisations' varying functional and budgetary requirements.
The flexibility and power of MassStore can be seen in the Masstech News workflow, which has completely revolutionized the way that news content is archived, searched, and retrieved. By integrating with common NRCS and PAM systems, MassStore automates the archive process, attaches rich metadata to news assets, and enables users to search and view their video archives directly from their NRCS user interface.
For those media companies concerned about maintaining the ongoing security of their archived content, at IBC2018 Masstech will also demonstrate the ease with which Oracle DIVA archives can be migrated to a Masstech solution, without disruption of services or constraints on content access.