IBC 2018: Vislink to launch new Advent satellite communications products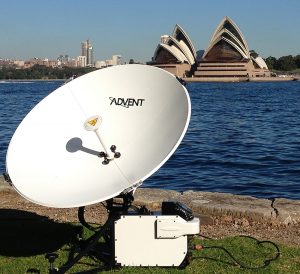 xG Technology has announces that its IMT Vislink brand will be displaying new Advent satellite communication products at this year's IBC show (stand 1.A69). IMT Vislink's Advent satellite products allow operators to access end-to-end satellite communication workflows and provide turnkey deployments in the field.
With over 30 years of expertise serving the broadcast, military and government markets, IMT Vislink has updated its satcom line to include the new Advent AirPro 75Ka antenna. This low-cost antenna works alongside the new Advent DVE6100 encoder and IRD6100 decoder, in addition to the proven Advent MSAT man-portable satellite antenna system and the Advent NewSwift HD 240 motorized satellite terminal, all of which will be showcased at this year's IBC Show (Stand 1.A69). The Advent satellite solutions provide cost-effective, high-quality, reliable transmissions within mobile and rapid deployment packages.
"The Advent range is designed to enhance an operator's mobility by offering maximum performance within a small form-factor and allowing quick deployment for situations across the globe," says David Robins, global sales director, IMT Vislink. "We are excited to reinvest a significant amount of our time and energy into the research and development of this product line. Our commitment to innovation provides our customers with superior quality video transmission and reception solutions at the lowest latency possible."
The Advent AirPro 75Ka is a small, lightweight, low-cost, single-button deployment IP satellite data terminal for use with Eutelsat's Tooway service. The Advent AirPro 75Ka works alongside the new Advent DVE6100 encoder and IRD6100 decoder to deliver greater transmission efficiency. The Advent DVE6100 and IRD6100 are the smallest and lightest 4K UHD DVB-S2X exciter and 4K UHD HEVC DVB-S2X IRD on the market. They provide ultra-low latency with multi-mode compression/decompression for MPEG-2, H.264 and HEVC with four channel HD capability for resolutions up to 1080p. Both products include a flexible IP streaming engine.
The Advent MSAT is a highly portable, lightweight, tri-band satellite terminal that can be set up anywhere to provide secure and non-secure data and video transmission in as little as five minutes. It supports X, Ku and Ka-band configurations ensuring worldwide coverage is available at all times. Available with a 65, 90 or 120cm reflector, the system is designed for rapid deployment in hostile environments and can be used with mains power or battery operation.
The Advent NewSwift HD 240 antenna is a Eutelsat, Intelsat and Arabsat compliant lightweight roof mounted drive away antenna designed to meet the highest standards of reliability and functionality for today's broadcast and military markets. All three motorised axes work simultaneously for an on-air time of less than five minutes. The 2.4m NewSwift is available as a C, Ku or X band system, sporting quick field-changeable feed cartridges that provide greater flexibility to users around the world.
To see the Advent solutions in action visit IMT Vislink in hall 1, stand A.69 at this year's IBC.