IBC 2018: VSN launches scheduling software and AI MAM platform
According to Marketing Director Patricia Corral, VSN is launching VSNCrea, an HTML5 and cloud-based version of our previous software VSNCrea TV for traffic and scheduling, and VSNExplorer MAM platform at IBC 2018.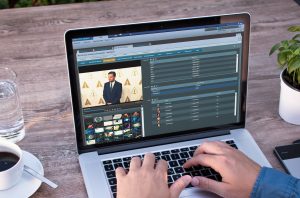 VSNCrea enables the management of a company's content production catalogue, either owned or acquired from third parties, as well as its advertising, production workflows, programming, and broadcast planning — all from a unique user interface. VSNCrea has been completely redesigned to offer broadcasters a brand-new, modern, and user-friendly web interface that allows them to make quick and accurate decisions about when to broadcast a certain piece of content, thanks to its unified functionalities and workflows in one single interface. It also provides useful extra information such as analytical data about the actual profitability of the content. As it is HTML5-based, the software will be accessible anytime anywhere from any web browser and device by multiple users simultaneously. Also, the possibility of running this software in the cloud will enhance the ability of users and departments to work together on a more collaborative basis. The system can be used specifically within TV channels, radio stations, or web TV platforms for traffic and scheduling, programming planning, advertising management, and control of third-party TV rights acquired for broadcast, among others. Other features include the ability to change language within the user interface, the consolidation of the final broadcast and the analysis of the programming and content return on investment (ROI) through analytical reports.
VSNExplorer Media Asset Management (MAM) software has been integrated via API with the artificial intelligence (AI) systems of IBM Watson, Google Cloud, Microsoft Azure, and Etiqmedia for automatic metadata detection. The integration of VSNExplorer MAM with these tools ensures that media management becomes more efficient, accurate, and easy to use, allowing a greater control of all content, either available in storage or being ingested, and reducing the time and costs necessary to obtain higher quality content. These new capabilities allow the automatic detection of metadata directly from the media, which can be accessed from VSNExplorer MAM cataloguing view. Metadata can relate to file characteristics, such as format, size, or date of creation, but also to its content, cataloguing media files and each of its segments according to the information captured from the video (image processing, object detection, and contextual information), audio layer (speech-to-text, text transcription and translation, or audio effects detection), actions performed, its main sentiment (positive, negative or neutral), and even the people appearing in the content (face recognition).
The new Inbound News Production solution places a special focus on easing the user's workload and allowing them to be more creative, rather than focusing on the 'story' behind the news. Following the implementation of three VSN systems (VSNExplorer MAM with Wedit, the studio automation VSNLivecom and VSNExplorer plugin for NRCS, a MOS Media Bus that is fully developed in HTML5), the Inbound News Production solution provides users with a single workspace to prepare their news, walking them through the entire news production process, from ingest to broadcast, without switching windows. It enables journalists to quickly search for content through the MAM system, edit video files, unify them with graphics, and send the final news piece to broadcast — all within the journalists' NRCS GUI.