IBC 2018: EVS and ESL to present latest in esports production workflows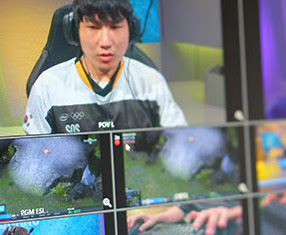 Throughout IBC2018 demonstrations on stand 8.B90 will show visitors how live esports event producers can use technology from EVS to output the highest-quality live esports programming.
Partnering with ESL, the EVS stand at the show will become a playground for live esports competition, featuring two ESL One championship players competing in a game of Counter Strike: Global Offensive (CS:GO). Around them, demonstrations will show how ESL uses EVS technology for live switching, live replays and fast turnaround content production to output engaging live content to multiple online platforms.
"Shows like IBC are more relevant to us now than they've ever been," said ESL's executive producer, Simon Eicher. "We have millions of audience members with high expectations all over the world, which means we have to output the highest-quality programming possible. As a result, it's increasingly important that we find ways to use the live production equipment traditionally used by broadcasters and finding the best way to integrate that into our production infrastructures."
With its unique approach to live event production, ESL has worked with EVS to build the industry's first in-game slow motion replay solution which will be on display at the show. Observer PCs are placed into a live game, viewing the action as if they were cameras. Feeds from these are recorded in the PCs' native 120Hz, ingested by the EVS server and slowed down to the broadcast-standard 60Hz. This creates a half-speed replay with completely smooth playout and absolutely no loss of frames.
A live switching demo using EVS' DYVI will also be on the stand to show how esports producers can cut together content both from the live play output from the gamers' PCs and for the live programming, from a single switcher. This 'customisability' is enabled by DYVI's software-defined architecture and lets users like ESL create a program setup within the switcher for each of the games played at any given tournament. TDs can then instantly recall any configuration with the press of a button, removing any unnecessary delay between events.
A MultiReview workflow – nicknamed the 'meme-machine' by ESL's production team – lets esports organizers quickly output highlights packages as well as GIFs and memes to its online platforms. Demos on the stand will show how MultiReview gives users a synchronous view of all feeds ingested by the servers so that they can easily select relevant content and create clips that are quickly turned around and included in live streams.
With online platforms the most common means of distribution for esports tournaments, being able to quickly turnaround live assets for multiple platforms is key. EVS' IPDirector live production asset management system will be on display showing how game engine data can be instantly imported and used during live competition to identify specific actions and create relevant clips and replays. IPDirector's new digital publishing add-on will demonstrate to users how they can distribute content playlists instantly on social media and live platforms such as Twitch.
"Esports is an increasingly important market for EVS," said Nicolas Bourdon, EVS' svp marketing. "Key events in the esports calendar are being delivered to tens of millions of people online. This means the market now sits alongside stadiums, sports teams and governing bodies as a group of users that can greatly benefit from the deployment of broadcast-quality video equipment."