TVUPack enters Russia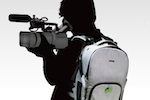 TVU Networks has teamed up with Russia's DNK Corporation so that the latter can bring the former's TVUPack ultra-portable Electronic News Gathering system – that enables video crews to capture and broadcast live interviews and events in HD over multiple 3G/4G/WiFi/WiMax connections – to the country.
"Russian media outlets have been looking for reliable portable uplink solutions for live broadcast. The biggest names in global broadcasting use TVUPack to deliver live video to their audiences, and we are excited to introduce a proven technology like TVUPack to Russia. DNK has been committed to providing the highest quality cutting-edge broadcasting equipment to Russian broadcasters for more than 10 years, and TVUPack is a strong option for our customers that are looking for a cost-effective alternative to an OB van," said Murat Tokbaev, CEO, DNK Corporation.
TVUPack is powered by TVU's proprietary Inverse StatMux technology, which dynamically segments a live video signal and transmits the segments through multiple independent wireless connections. TVUPack is billed as simple to use and provides broadcasters with sub-second latency and a broadcast quality HD signal that enables them to broadcast live at any time and from any location.
"Television stations, news agencies, and freelance video crews around the globe have turned to TVUPack for its ability to go live with the push of a button and provide superior picture quality to their viewers. TVUPack provides broadcasters with a powerful, cost-effective uplink solution that provides the flexibility to bring new and innovative content that their audiences demand," said Paul Shen, CEO of TVU Networks. "We are excited to be partnering with DNK to bring the latest in portable video HD wireless transmission to Russia and look forward to building a strong partnership with them."