Accenture develops 6 Nations app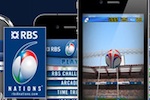 With the rugby playing Northern hemisphere nations preparing to square off for the start of the 6 Nations tournament next weekend, Accenture has been unveiled as the Official Technology Partner for the 2012 and 2013 RBS 6 Nations Rugby Championships and, more interestingly, is also delivering the official mobile app.
John Feehan, Chief Executive of the RBS 6 Nations, said: "Through a collaborative contract with Accenture we have been able to deliver the new mobile app ahead of this year's first Championship game on Saturday 4 February between France and Italy. The app will provide broadcasters, journalists, coaches and rugby fans with the latest news such as team line ups and live text commentary throughout the Championship. We look forward to a very productive and successful relationship with Accenture."
During the Championship, users of the app will be able to access comprehensive match statistics and live text commentary for all matches, capturing critical team, player and match data such as set piece success rates, yards gained, possession rates, penalty counts and a host of other match metrics.
"Accenture is delighted to be associated with one of the most exciting rugby tournaments in the world," said Olly Benzecry, UK and Ireland managing director at Accenture. "We pride ourselves on our ability to develop innovative mobile capabilities for our clients. In this case, Accenture Mobility Services was tapped to help The RBS 6 Nations respond to the needs of its changing consumers and to enhance the experience of rugby fans."
Incorporating the latest technology to create the ultimate mobile RBS 6 Nations fan experience, the Accenture-built app provides fans with access to all kinds of information throughout the championship, with live push notifications to keep users up to date on the latest pre-match developments as they happen. The app covers the whole experience both on and off the field from pre-match build up with all the latest news, line ups and previews, through to experiencing the game live with text commentary, followed by post match analysis including video highlights, reports and match play data.