Broadcast Electronics introduces Cuelite Tally Interface for camcorders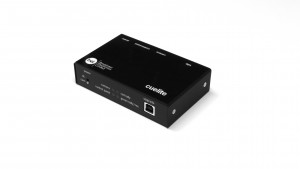 The Culelite tally interface takes control of the integrated cue lights on compatible camcorders, assisting where camcorders are used in live, multi-camera production. The interface is driven by a mixer tally output, illuminating the cue lights when the camera is live including those in the viewfinder – hence the operator always knows when they are cut up on the mixer.
In addition to camcorders, Cuelite is compatible with system cameras including 'box' type cameras and can control both the red cue and green preview lights without the need for a CCU. Furthermore, Cuelite can be used to remotely control the onboard recorder of a camcorder. Record status is displayed on the interface and on supported remote control panels. A key feature is the ability to connect individual Cuelites together to synchronise recording on multiple camcorders. This simplifies the process of managing recording media.
The compact Cuelite interface works by injecting tally and record commands into the data path between the camcorder and remote control panel. It supports common mixer tally signal and can be used to extend data cabling range to hundreds of meters using twisted-pair cabling. Alternatively, the interface can be used with popular fiber optic camera back accessories.