Bruce's Shorts exceeding expectations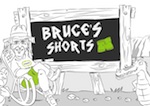 The pleasingly innuendo-friendly but laudable initiative of 'Bruce's Shorts', a series of free educational web videos and webinars starring AmberFin's titular CTO, Bruce Devlin, are proving an impressive success for the company.
For those that haven't come across the concept, Bruce's Shorts consists of series of weekly video shorts and monthly in-depth webinars covering a broad range of industry topics including: "what can Toyota teach us about media quality control?" to "what is the best way to ingest 40,000 hours of tape?" and "what is SOA and why do I need it?"
AmberFin says that it has received many hundreds of registrations for Bruce's Shorts, including large numbers from North America, Japan and Australia as well as from across Europe. There is increasing evidence that the initiative is 'going viral' with multiple subscriptions being received from the same organizations. The range of organizations represented is diverse, including major broadcasters and studios, as well as consultants and systems integrators worldwide.
Bruce's Shorts is approaching a key point in the release of the program's first in-depth webinar, which will provide a more detailed insight of an issue that Bruce Devlin believes is important to the broadcast industry. The first webinar will be available for viewing on 25 October and will provide a beginner's guide to file-based workflows.
"We are very pleased with the initial response to the launch of Bruce's Shorts – it appears to strike a chord with many people in our industry," commented Bruce Devlin, Chief Technology Officer at AmberFin. "Although we have kicked off the series, there is no deadline for signing up to Bruce's Shorts. This is not some dry old academic theory – what we provide is real industry insider knowledge, which is so much more valuable. The fact that it's available free of charge makes it even more of a no-brainer."
Sign up at www.amberfin.com/shorts