Clear-Com taps AudioPro for Netherlands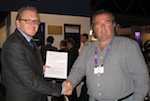 Clear-Com has appointed AudioPro as its new distributor in the Netherlands. As a result, AudioPro will now offer the full range of HME professional intercom products as well as a majority of Clear-Com's offerings.
Here's the statement:
To ensure greater product availability for customers in the Netherlands, AudioPro will carry a local stock of Clear-Com and HME products, making it easier for users to purchase intercom systems for a live event or broadcast on short notice. AudioPro will also provide trained technical staff to assist in after-sales support and services.
"We here at AudioPro are very excited to be working with Clear-Com," says Rolf Dijkstra, Managing Director, AudioPro. "We believe that Clear-Com's innovative systems are a perfect complement to our current products. With the addition of Clear-Com, AudioPro can provide turnkey solutions for our installed, broadcast and live sound clients. Everyone on our team looks forward to bringing Clear-Com's groundbreaking, market-proven technologies to our territory."
Already a distributor for a wide array of professional audio brands, such as d&b audiotechnik, Auralex and Yamaha, AudioPro will offer Clear-Com and HME intercom systems as part of a complete solution for customers looking for high-quality performance systems in each of the company's leading markets. AudioPro will be supplying Clear-Com's EncoreTM Partyline, FreeSpeak and Tempest2400 wireless intercom systems as well as the HME DX Series digital and HME PRO850 wireless systems. Also available are the Clear-Com WBS analogue wireless system, ConcertTM and VoICE 2.0/SOFT-VoICE Intercom-over-IP communications solutions.
"We believe the newly established relationship between Clear-Com/HME and AudioPro is an excellent fit for both companies," says Karlie Miles, Director of EMEA Sales, Clear-Com. "AudioPro has garnered a well-established reputation and their extensive customer base creates an opportunity for Clear-Com and HME sales to grow in the Dutch/Benelux region."