Cloudbass invest £5.5m in trucks and kit for continued growth
UK-based facilities firm Cloudbass has completed a £5.5m investment programme in new OB units and production kit.
Encompassing UHD trucks, IP workflows, the latest cameras, lenses, and replay equipment, the investment is said to strengthen the company's position as an industry leader in broadcast solutions and will gives its customers access to the very latest technology.
Cloudbass recently became the first company in the world to transform an existing outside broadcast truck from HD-SDI to UHD IP using Axon Digital Design's next generation signal processing technology.
The transformation now allows Cloudbass to offer broadcasters all the flexibility and speed of a fully IP workflow.
The company is also currently commissioning a new triple expanding OB truck that will have the capacity to support large-scale complex UHD productions in High Dynamic Range and Dolby Atmos, supporting up to 24 Cameras.
It will have an IP infrastructure which will make for very efficient operation and allow for the capacity to expand and integrate the latest technology, the company said.
For smaller scale OBs, the company has refreshed its flyaways and smaller trucks, including building a new mobile gallery vehicle.
This has been successfully deployed on One and His Dog and Ibiza Rocks and will be providing Mentorn Scotland with facilities for Debate Night.
The fleet now has the capacity to operate up to 100 cameras supported by tenders, generators, edit, and gallery vehicles.
In relation to capacity, it has recently bought the latest generation Sony HDC-3500 cameras coupled with new Canon UHD lenses. This takes its number of deployable cameras to around 60.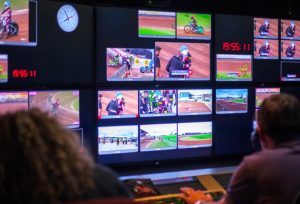 As well as investing in technology and increasing capability, importantly Cloudbass is investing in its current people and recruiting up to ten new posts to ensure that it has a workforce that has a high skillset and the flexibility to meet clients' needs.
Steve Knee, managing director of Cloudbas said: "We are delighted that we have been able to invest considerably in our business. We are working with many partners, suppliers and clients to realise our well thought out plans. The outside broadcast industry is constantly changing and with this investment we will remain a leader within it."
Asset finance firm Medialease supported the project.
Paul Robson, the managing director of Medialease, said "Once again we were delighted to be asked by Cloudbass to help with the financing of their latest project to transform an OB truck to UHD IP. From initial discussions about staged payments to suppliers to completion of the project took less than six months which is an unbelievably short timescale, but we were all able to manage it thanks to a very accommodating client."