FOR-A opens Dubai office to serve growing MEA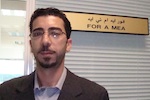 FOR-A has opened a new office in Dubai to better serve customers in the MEA region and has hired two industry veterans – Sales Manager Khalid Sweidan and Engineering Manager Mohammed Abu Ziyadeh – to manage the daily operational demands of the new Dubai office.
"While we've always provided sales and technical support to the MEA region from our Tokyo world headquarters, it's become imperative that we maintain an office in the MEA region that can provide timely, personalized service and support to our rapidly expanding MEA customer base," said Hiroaki Tanoue, deputy senior general manager, Overseas Sales & Marketing division, for FOR-A Company Limited. "This new office is dedicated to promoting FOR-A products and providing responsive customer and technical support to broadcasters and other A/V professionals in the MEA region."
With over 12 years of experience spanning the broadcasting, A/V, and IT arenas, Khalid Sweidan brings to his new role as FOR-A MEA sales manager a proven track record of sales performance and success. Prior to joining the FOR-A MEA office, Sweidan served in senior regional sales positions with S[quadrat] Video System Integration, Barco n.v., and Sony Broadcast and Professional. He successfully built and executed sales strategies and has worked closely with broadcasters, production houses and A/V system integrators across the MEA territory.
Prior to joining FOR-A MEA as its engineering manager, Mohammed Abu Ziyadeh gained valuable experience as a technical solution engineer, and later became a senior broadcast engineer for a leading digital broadcasting equipment and solutions provider. In this capacity, he worked with broadcasters around the world to resolve technical problems, handle installations and maintenance of broadcast and production systems, and manage and train the engineering team. Ziyadeh also served as a broadcast engineer for a television station where his duties encompassed overseeing studio, off-line, OB vans, transmission and master control operations.