Gearhouse invests in Hi-Mo II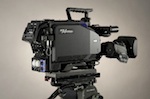 Gearhouse Broadcast has bought one of the new NAC Hi-Motion II Ultra Slow Motion HDTV cameras for its Project Solutions Division. According to the company, the purchase was driven to meet the demand from clients for forthcoming global sports events such as the European Football Championship, tennis, motor racing and other major sporting events this summer.
Kevin Moorhouse, Gearhouse Broadcast's Chief Operating Officer said: "The debut of the Hi-Motion II camera at this year's Australian Open Tennis Championship significantly enhanced the host broadcaster's ultra-slow-motion action which was captured in crystal clarity and ultra fine detail. The camera was used extensively on the two main courts and delivered some exceptional slow motion action, enabling us to capture the dramatic court action at this year's tournament.
"The new Hi-Motion II camera is a dual-format 1080i/720p system that can provide simultaneous output of live normal-speed video and ultra-slow-motion replay video. The camera can work alongside other HD cameras to deliver the exceptional imagery today's HDTV sports broadcasters and viewers demand".
Andy Hayford, NAC Image Technology's International Sales Manager commented: "As I've traveled with the NAC Camera in Europe, Asia and the USA, the response to the Hi-Motion II is overwhelmingly positive. Everyone from Engineering, VT and Production is 'over the moon' that the camera works straight out of the box and integrates like a normal camera – and the live and replay pictures are stunning! It's great to hear the positive response one of the Broadcasting Industry's leading Facility and Rental Suppliers is getting to Hi-Motion II in Australia."