Globecast and FRANCE 24 initiate HbbTV trials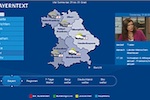 GlobeCast and FRANCE 24 are launching a Hybrid Broadband Broadcast Television (HbbTV) trial in early 2012 with the support of Orange and SES. The service, to be offered to satellite viewers of FRANCE 24, initially in Western Europe, will add a layer of interactivity to satellite TV programming by harnessing the capability of connected TVs.
GlobeCast will use its broadcast experience and knowledge of connected television to lead this trial. It will also provide ground services and uplink from its Paris technical operations centre. The satellite feed will be delivered via one of the ASTRA satellites at 19.2ºE — SES' leading orbital position in Western Europe. As a leading Internet Service Provider, Orange will enable content providers to benefit from the latest technical solutions, thereby offering improved quality of service for the end viewer. This service will be developed within the framework of its strategic Smart Networks program.
Frank Melloul, Head of strategy, development and public affairs at FRANCE 24 said "FRANCE 24 is present on five continents, reaching tens of millions of households around the world in three different languages. With this project, we've taken a step towards ensuring that all of these viewers have the same ability to interact with our programming."
Philippe Rouxel, Chief Marketing Officer of GlobeCast said, "We're now finally seeing the convergence of broadcast and the Internet. As a next-generation provider of broadcast services, GlobeCast will remain at the forefront of this movement. In this new 'connected' world, we are helping our broadcast clients offer an interactive, high-quality experience to their viewers worldwide, regardless of delivery method."
Ferdinand Kayser, Chief Commercial Officer of SES, said "We're happy to participate in this demonstration. We have already seen the successful roll-out of HbbTV in other European markets such as Germany and look forward to the launch of this exciting new service from France. HbbTV is just another example of how satellite technology will continue to provide an enriching experience for viewers around the world."