IBC 2019: Arvato Systems to headline AI-based ad placement, BMS AdStore, new MAM enhancements
Arvato Systems (stand 3.B36) is showcasing multiple innovations across its product range at IBC2019. Visitors will see how the company responds to the latest challenges in the industry, and folds technology into its advertising sales, broadcast management, media management, and media supply chain solutions in a number of key areas. Furthermore, both Arvato Systems and its subsidiary Vidispine are shortlisted in the IABM BaM Awards® 2019.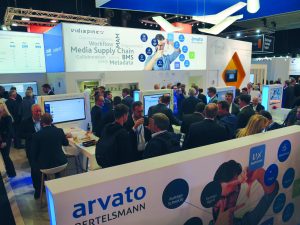 "From the introduction of AI forecasting to provide improved inventory control for broadcasters and an improved ROI for advertisers to the latest advances in programmatic TV, we are delighted to be showing multiple innovations across multiple product lines at IBC2019," says Holger Noske, VP Broadcast Solutions at Arvato Systems." Erik Ahlin, CEO Vidispine adds: "These advances are not just about doing more, they are about being more effective, and will allow our customers to do the things that matter most to their business."
This year's highlights on (stand 3.B36) include:
AI-based forecasting for ad placement. This new technique can analyze historical viewing trends to predict highly accurate ratings for upcoming schedules, ensuring broadcasts meet contractual obligations with advertisers while maximizing revenue. This combined with the BMS S4AdOpt TV ad server leads to more accurate placement of advertising slots, resulting in optimized utilization of inventory for broadcasters and better ROI for advertisers.
BMS AdStore will also be on display, delivering unparalleled cross-platform order management and including the ability to balance and redistribute campaign budgets across different platforms. Enhancements to BMS Avatega, meanwhile, will highlight the potential of increased collaboration that cross-platform media planning and rights management solutions provide.
In the Media Asset Management area, new enhancements to VPMS MediaPortal will show how users are able to search for the most important metadata in their libraries, empowering operators to make the best editorial and creative decisions when collecting and sharing media.
Demonstrations of the latest updates to VPMS EditMate will show how the new comprehensive web interface is designed to allow users to work anywhere, enabling users to browse and organize EditMate media and pending projects wherever they are in the world. IBC will also see a number of enhancements to the VPMS Platform, including new visualization tools for creating, editing and monitoring workflows, while administrators also have greater control over advanced metadata fields.
Subsidiary brand, Vidispine, bring new additions and enhancements to Vidinet to the show, demonstrating the ease with which cognitive services can be added into the media supply chain as well as a new, ultra-efficient, transcoding service from Bitmovin and increased choice of cloud providers. Elsewhere, there will also be demos of two compelling use case scenarios built on the Vidispine Development Toolkit, while the new Vidispine 5.0 API debuts several performance and security fixes designed to make it easier to build faster and larger systems.
AI-driven Ratings Forecasting with BMS AdStore has been shortlisted in the Monetize category in the IABM BaM Awards® 2019, with subsidiary brand Vidispine also making the shortlist in the project, event or collaboration category.