IBC 2019: AVIWEST and V-Nova announce strategic partnership to commercialise newsgathering solution
AVIWEST (stand 2.B31) and video compression solutions provider V-Nova (stand 14.A07), have announced a strategic partnership that will build upon the success of the Media-Telecom Catalyst project, to develop and commercialize groundbreaking products for newsgathering. The products are targeted for release in 2020.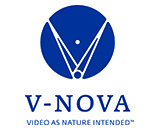 IBC and TM Forum have been working together to bring a fast-track innovation cycle to the media and technology ecosystem, reflecting the pace of convergence in the broadcasting, entertainment, telecoms, and technology sectors. Catalysts are proof-of-concept projects developed collaboratively, bringing together companies large and small to create innovative solutions to common industry challenges. The Media Telecom Catalyst Innovation projects will be showcased at IBC2019 (RAI Amsterdam, Sept. 13-17).
The 'Mobile Newsgathering Using AI-Powered Compression' Catalyst project was championed by operators Al Jazeera, Associated Press, AVIWEST, BBC News, BT, RTÈ, and V-Nova, and worked on improving the quality, latency, and reliability of live news contribution, especially in constrained connectivity scenarios. The challenge here is to empower journalists in the field and their newsroom production teams to enhance the transmission of news content, both live and pre-recorded, in the face of fluctuating and often unreliable mobile network coverage, and to efficiently exploit the emerging opportunity of 5G contribution.
Matt Stagg, Director of Mobile Strategy at BT Technology & BT Sport, says – "BT's mobile network (EE) is used extensively for content contribution by broadcasters, however all 4G networks are a shared resource so can be subject to limitations in certain situations. If we take breaking news as an example, you invariably have lots of broadcasters in the same location using the same uplink capacity, this can lead to congestion and degradation in video. A reduction in the bandwidth required for the broadcast means there is less chance of this happening."
The catalyst collaboration between V-Nova and AVIWEST led to a successful proof of concept in less than six months. The joint product incorporates V-Nova's P+ AI-powered next-generation streaming enhancement with state-of-the-art newsgathering solutions from AVIWEST. The new solution, whose proof of concept is being introduced at IBC2019, enables unprecedented video compression performance and robustness in constrained bandwidth conditions, extremely low latency, and smart adaptability to varying network conditions, making it the ideal solution for mobile news gathering and 4G/5G contribution.
Conrad Gows, Technical Architect at RTÈ says – "At RTÈ we are impressed by the value add that V-Nova's technology can bring to news gathering solutions, in terms of improved quality and reliability of live news contribution. We look forward to seeing the results of a successful Catalyst project translated into a new commercial-grade solution."
The strategic partnership between V-Nova and AVIWEST will develop the successful POC into a groundbreaking newsgathering solution, integrating for the first time, V-Nova's P+ technology into a HE4000, Multi-HD/UHD HEVC video encoder, and targeting commercialization in the first half of 2020.
Guendalina Cobianchi, SVP Business Development & Partnerships at V-Nova, comments – "The Media-Telecom Catalyst Programme was an exciting opportunity to collaborate with an extremely talented and motivated team from AVIWEST and prestigious sponsors to quickly transform their needs into a powerful solution. I am excited about the potential of our P+ technology to generate a step-change performance increase in news-gathering solutions, bringing higher-quality streams without compromising on latency and flexibility."
Ronan Poullaouec, Chief Technology Officer at AVIWEST, says – "Thanks to the Media-Telecom Catalyst Program and to the expertise of the V-Nova team, we are proud to demonstrate the potential of our SafeStreams technology combined with the P+ technology from V-Nova. This innovative solution will be a game changer for the transmission of high-quality live video with exceptional reliability and flexibility. This is excellent news at a time when cellular networks and other unmanaged IP networks are mainly used as primary transmission means. There is no doubt that this solution will soon prove its effectiveness over the first 5G network deployments."