IBC 2019: Broadcast Solutions to showcase VRT newsgathering van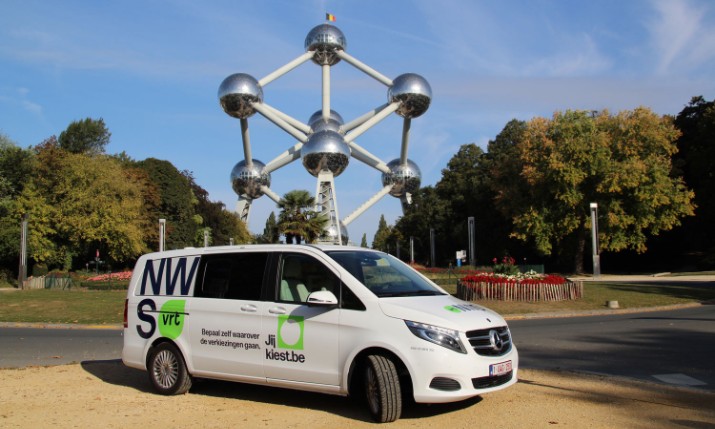 Broadcast Solutions will use IBC 2019 to show off a new ENG Van recently delivered to Belgian public broadcaster VRT.
The unit, part of a contract of seven vehicles, is one of three identical newsgathering vans that were built earlier this year. The van is being used in the field to produce content for the VRT news programme VRT NWS.
It is based on a Mercedes V-class and Broadcast Solutions has adapted it to meet VRTs wishes in terms of broadcast technology, data transmission, interior design concepts and independent power supply solutions.
In its IBC show preview, the company said: "The concept of the van is to give the teams in the field as much flexibility as possible to produce on-site or on the road. The room concepts allow for two people to work even when the van is moving. When driving to a location the editors and journalists can prepare the piece they are about to shoot. In the same way, they can edit and playout material right away after shooting a feature, before reaching the VRT facilities."
The basic broadcast equipment used in the van is an Axon video router and multiviewer, a DHD audio console with Genelec monitors plus a workstation running Adobe Premiere and several storage cards.
For data transmission Broadcast Solutions integrated Pepwave LTU transmitters as well as a TNG system plus a LiveU200 for camera-mount use. The VRT van is equipped with a dedicated power generator included in the van and Lithium Ion batteries to enable up to five hours autonomous activity.
When parking the van and switching to battery mode, the crew is able to work without any possible impairments by disturbing noises. The power options can be switched easily by using a special panel included in the edit workspace.
The company added: "The overall interior design, the workspace and storage solutions reflect Broadcast Solutions' approach to always keep the user in mind. When in the field producing live footage or on tape, anything can happen and the team and the van needs to be prepared for everything. Including tailor-made solutions, clever gadgets, individualised storage compartments, desk and chair adaptations or charging stations the crew can work with ease trusting in the equipment and the vehicle, even under high pressure."
Stand O.E02