IBC 2019: Eurovision Services to distribute Spanish Basketball League in 2019-20
Eurovision Services (ES) (stand 10.F20) has reached an agreement with the Asociación de Clubes de Baloncesto (ACB) to distribute the Spanish basketball league matches for the 2019/2020 season to rightsholding broadcasters worldwide.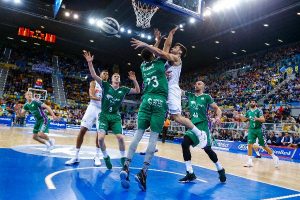 The agreement covers the Liga Endesa, Copa del Rey and Super Cup for a total of some 100 matches between September 2019 and May 2020.
"We are pleased that ACB has chosen to deliver their events over the Eurovision Global Network to rightsholders around the world. Our satellite and fibre network, complemented by internet and wireless technologies, is renowned for bringing top-quality live events to the media community," says Michele Gosetti, Head of Global Sales at Eurovision Services.
Joan Manel Carreras, ACB's Director of Business Development, comments: "We are looking forward to working with Eurovision Services during the upcoming season. It's our top priority to provide our rightsholding broadcasters with top-quality signals, using the prime satellites in each geographical region. We are confident that Eurovision Services will ensure a reliable service and support our transmission takers."