IBC 2019: EVS introduces Overcam for automated production
EVS (stand 8.B90) will introduce Overcam, a software solution driven by machine learning that enables autonomous control of robotic cameras in live sports environments. With Overcam, rights owners and holders can create more affordable, immersive productions by capturing the action from more camera angles far more economically.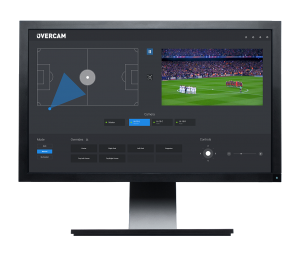 Overcam controls multiple robotic cameras deployed around a pitch then uses "smart tracking" to analyze key parameters of the game, such as players and ball positions, steering the cameras to frame the scene. Its real-time processing means it integrates with existing multicamera live production workflows where the robotic cameras can be mixed with manually operated cameras. This solves the persistent challenge of camera positions versus budget and optimizing conventional productions.
The system is based on neural networks and computer vision which automates key camera positions. This is powered by VIA Mind, EVS' AI engine that integrates machine learning methods to drive a growing number of EVS solutions.
While the debut iteration of the solution is intended for live football, especially smaller leagues with tighter production budgets, the system can ultimately be used for other sports such as basketball and hockey. A typical football deployment of Overcam would see the system simultaneously drive the main central camera along with two offside cameras and a tactical camera. It can also provide an affordable way to capture additional camera angles for the productions of major sporting events.
Overcam has been created to help organizations save money, expand camera coverage, standardize hard-to-achieve viewing angles, and position cameras in costly or constrained areas that avoids blocking the sale of seats.
Discussing the new solution, Christophe Messa, Product Manager at EVS, said: "Some of the camera positions, like the offside cameras in football, play an important role in the overall coverage, especially for replays. At the same time, budget constraints require a trade-off on how resources are deployed. Overcam covers these important positions, ultimately enhancing the final output."
Overcam's AI-based approach goes beyond automation and simple tracking to precisely mimic the movements of human camera operators, creating a smooth, natural-looking framing of the action with optimal visual results, including real optical zoom and depth of field. The system runs on a compact 2RU COTS server, which can be located either in the venue or in a remote operation center. On match day, no lengthy setup time is required. It is easily deployed, and cameras are calibrated automatically.