IBC 2019: EVS' Overcam wins IABM BaM award
EVS' (stand 8.A96) newly-introduced AI-based camera automation system, Overcam, has won the IABM BaM award at IBC2019. It was honored in the Create category at last night's ceremony at IBC in Amsterdam.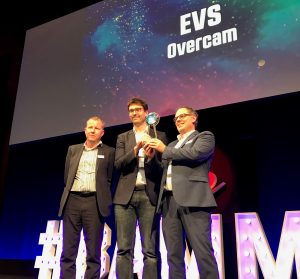 Overcam is a software solution driven by machine learning that enables autonomous control of robotic cameras in live sports. Powered by VIA Mind, EVS' AI engine that integrates machine learning methods, the new solution uses "smart tracking" to analyse key parameters of the game, such as players and ball positions, steering the cameras to frame the scene. Due to the system's real time processing, it integrates with existing multicamera live production workflows where the robotic cameras can be mixed with manually operated cameras to enhance storytelling capabilities.
Overcam has been developed to enable content owners to create more immersive productions by capturing the action from more camera angles more economically. The debut iteration of the solution is intended for live football, particularly smaller leagues where production budgets are tighter, but the system can ultimately be used for other sports such as basketball and hockey.
"There' a lot of excitement within the industry around Overcam and its ability to cost-effectively enhance the output of any live production, so we're delighted that our latest innovation has been recognized by the IABM and its illustrious panel of expert judges," said Johan Vounckx, SVP, Innovation & Technology at EVS.
The BaM Awards are independent and run by the broadcast industry's only international trade association, the IABM. They are judged by a panel of more than 40 non-affiliated, subject experts who look for innovations that deliver real business and creative benefits.