IBC 2019: Game Creek Video expands HDR capabilities with EVS XT-VI servers
Game Creek Video has chosen an extensive offering of EVS (stand 8.A96 & B90) solutions to support its full HDR capability, including UHD-4K and 1080p productions. The new solutions, anchored by EVS' XT-VIA servers, have been deployed for the first time by FOX Sports at the start of the new college football season. The new solutions will also help Game Creek support other leading broadcasters putting on large-scale productions to cover major U.S. sporting events.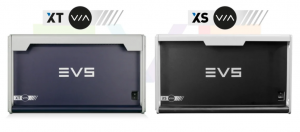 More than 20 new XT-VIA servers will be used to replay, edit and produce content, providing the configurations and flexibility needed to capture game-day live action at the highest quality. These powerful new EVS servers also support a high number of super-motion cameras in 1080i, 1080p and UHD-4K – which have become increasingly important in live sports production – while preserving precious channel density.
To take full advantage of the power, speed and flexibility of the XT-VIA servers, Game Creek is also employing EVS' new XNet-VIA high-speed, ethernet-based media sharing network, providing clients with even more flexible options and faster transfer speeds.
The recording and playback of multiple feeds of video and audio in a range of formats will be done using new XS-VIA production servers. In addition, Game Creek is upgrading more than 60 of its current XT4K and XT3 servers to the EVS Multicam 16.00 operating system, as part of a planned overhaul of its entire EVS fleet. This will expand its capabilities to meet the increasing demand of live productions in higher resolution by improving the performance and increasing the bandwidth of its existing servers.
Together, the integrated equipment delivers the power, scale, and versatility needed to achieve full HD 1080p or UHD-4K production in either HDR or SDR, depending on the requirements of the live production. The EVS solutions also fit into Game Creek Video's technology roadmap, which includes upgrading all of its trucks for the highest-resolution formats and transitioning to IP video.
Ultimately, the company's goal is to build all of their mobile units to the SMPTE 2110 IP standard, which the XT-VIA has been successfully tested for by the Joint Task Force on Networked Media.
"We see HDR as the future," said Jason Taubman, SVP Technology at Game Creek Video. "Many of our clients are actively experimenting with the format and we're now building all of our trucks for HDR. It's essential to staying ahead of the technology curve and EVS solutions offer the power and flexibility that our customers demand."
Quentin Grutman, EVS' SVP for The Americas added, "Game Greek has always been forward-thinking in their approach and with their equipment. We're proud to be a part of their continuing evolution and commitment to technology, and to help them transition to HDR and UHD-4K productions."