IBC 2019: G&D flaunts ControlCenter-IP system
G&D (stand 1.D39) will be exhibiting their high-performance systems for KVM-over-IP. The company will show how to implement the extension and distributed switching of computer signals via IP networks for broadcast units as flexibly and efficiently as possible. KVM systems form the link between IT and broadcast structures and offer cross-system, platform-independent operation, and extensive usability.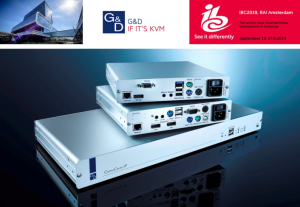 As a central matrix unit, the powerful ControlCenter-IP, together with point-to-point IP extender systems, enables the switching of all connected computer and console modules via standard IP-based networks. By using standard network components, IT structures can now be scaled even easier and more cost-effectively. The system also greatly enhances both user-friendliness and flexibility. The ControlCenter-IP is highly scalable and enables flexible transmission via CAT cable or fiber optics while also ensuring pixel perfection and minimum latency.
While the network infrastructure takes over the transport of IP packets, the ControlCenter-IP contributes the logic. Transmission takes place compressed via standard IP-based networks on layer 3, with a data transmission rate of 1 Gbit/s per line.
Optimum video quality up to real 4K over IP
Combined with high-performance IP extenders, the ControlCenter-IP enables lossless transmission of video signals with resolutions up to 4K at 60 Hz. With the help of versatile IP extenders, you can benefit from a wide range of different video signals and resolutions. In addition to solutions for DP 1.2 with resolutions up to 3840 × 2160 @ 60 Hz, the company also offers modules for DVI single and dual link as well as DP 1.1. Therefore, users benefit from latency-free and lossless images at the best possible performance.
From film productions to e-sports arenas, from Australia to the USA – many large international TV and radio stations, production and post-production companies rely on KVM systems from G&D.