IBC 2019: Haivision and Microsoft to host 'broadcast production in the cloud' panel
Haivision is hosting a free panel session with Microsoft at IBC on Sunday 15 September called 'Broadcast Production in the Cloud with SRT Hub & Microsoft Azure' that will feature video experts from Avid, Haivision, Telestream and Wowza Media Systems.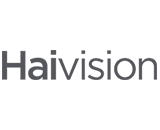 SRT (Secure Reliable Transport) is an open-source protocol, developed by Haivision, which allows broadcasters and streamers to deliver high-quality, low-latency video streams and files across the public internet and within the public cloud. SRT is fast becoming the de facto low-latency video streaming standard in the broadcast and streaming industries.
This panel session, taking place in Room G104, will discuss today's challenges of accelerating the production of breaking news and delivering live events using SRT Hub and Azure cloud services. Hear how broadcasters are using secure real-time internet-based connections to fuel broadcast cloud services so that their production processes can stay competitive with the speed of social media. Attendees will learn how broadcasters can capture and process media faster and more cost-effectively with seamlessly integrated on-premise and cloud resources.
Event Details
Title: Broadcast Production in the Cloud with SRT Hub & Microsoft Azure
Date/Time: Sunday September 15 from 16:00 – 17:00
Location: RAI Convention Center, Amsterdam, Room G104
Panelists:
Mediainsights.media – Tony Emerson, Principal (Moderator)
Avid – Raymond Thompson, Director Broadcast and Media Solutions Marketing
Haivision – Mahmoud J. Al-Daccak, EVP Product Development & CTO
Telestream – Stuart Newton, VP Strategy/Corporate Development
Wowza Media Systems – Charlie Good, Chief Technology Officer and Cofounder
Stand 14.G27 (Haivision) and stands 1.BS2 and C27 (Microsoft)