IBC 2019: Haivision announces broadcast cloud service with partners Avid, Telestream, and Wowza Media Systems
Haivision (stand 14.G27) announced the SRT Hub Partner Program and the availability of the SRT Hub Software Development Kit (SDK). Haivision SRT Hub is an intelligent low latency media routing service built on Microsoft Azure that connects edge devices and systems with cloud resources regardless of geographic location. With SRT Hub, broadcasters can take advantage of best-in-class multi-vendor cloud products to build out customized media contribution, production, distribution, and delivery workflows.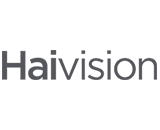 The SRT Hub Partner Program, supporting third party vendor integration with the newly available SRT Hub SDK, provides a framework to develop input, output, and processing modules, called Hublets, that can extend the capabilities of SRT Hub. Initial SRT Hub integrations with products from Avid, Cinegy, Haivision, LightFlow, Microsoft, Telestream, and Wowza Media Systems will be demonstrated at the IBC 2019 conference. With SRT Hub, global media workflows connecting vendors and spanning multiple Azure datacenters and broadcast services can be defined, orchestrated, and launched within minutes.
"With Haivision SRT Hub, we're creating an ecosystem that gives broadcasters a highly reliable, ultra low latency cloud-based workflow to send their content throughout their connected broadcast systems," said Peter Maag, CMO, Haivision. "We're bringing some of the leading systems together to make these workflows more efficient and we're looking forward to developing new broadcast workflows for the future."
"The broadcast cloud requires seamless low latency connections to and from edge devices and amongst the leading cloud-based broadcast solutions," said Bob De Haven, General Manager, Worldwide Media & Communications at Microsoft. "With SRT Hub on Microsoft Azure, Haivision is helping bring together an open ecosystem of partners so customers can more easily build world-class media contribution, live routing, and delivery workflows."
"At IBC, Avid is showing a tech preview with Haivision SRT Hub to demonstrate how broadcasters can leverage a highly reliable, ultra-low latency cloud-based and on-premise workflow for getting their content into Avid MediaCentral, from anywhere in the world," said Raymond Thompson, Director of Product Marketing for Avid. "The combination of SRT Hub and MediaCentral is redefining how broadcasters cover the most important breaking news and sports events and can be the first to get content on traditional and digital platforms."
"Wowza is excited to announce the Wowza Hublet for SRT Hub at IBC, powering high-quality, low-latency streaming from any location to any device, anywhere. The Wowza Hublet for SRT Hub was built from the ground up to work seamlessly and quickly with Wowza's industry-leading streaming solutions," said Barry Owen, Wowza VP of Solutions Engineering. "Our media and entertainment customers are excited to leverage cost-effective, high-quality, highly-reliable streaming to CDNs, private networks, and syndicated delivery to social media platforms."
"At IBC we are introducing LightFlow's second SRT Hublet. We continue to enable the LightFlow Suite within Haivision SRT Hub, where customers are able to create live video streams with a three second glass-to-glass latency, from broadcast contribution to massive delivery over the Internet with optimal multi-codec dynamic ABR ladders. Additionally, publishers can now benefit from a multi-CDN strategy based on advanced business rules and real-time QoE analytics," said Miguel Serrano, CEO at LightFlow, an Epic Labs company. "The possibilities of the whole SRT Hub ecosystem are endless and we are excited to help video publishers to redefine and create more flexible and versatile workflows".