IBC 2019: Imagine assists Videe with OBX truck and NPC Media with playout, taps AWS for OTT monetization
Imagine Communications has helped Italian systems integration company Chromaline, which specializes in outside broadcast trucks, with their newly built OBX for Videe. In addition, Imagine Communications has been selected by NPC Media to provide an extensive infrastructure upgrade of the National Playout Centre (NPC) in Sydney, Australia. Finally, the company announced that core OTT monetization functionality from its Targeted Delivery portfolio is now available as OTT Monetization Service, powered by Amazon Web Services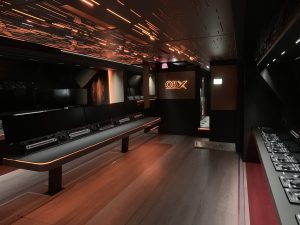 OBX
The design, focused on creating a comfortable working environment for the biggest live events, depends upon core infrastructure products – including routing and multiviewers – from Imagine Communications.
Videe now provides facilities to broadcasters around the world, covering some of the leading sporting events, as well as music and culture. Interest in 4K and HDR was rapidly growing among its clients, but at the same time, they wanted extended production capabilities and ever more cameras.
"We needed a new truck which was more powerful and more capable than ever, supporting up to 30 cameras in native Ultra HD," said Ilario Urbanetto, chief engineer of Videe. "But we also wanted it to be the most comfortable truck to work in. When working on a major host broadcast project, our crews can be inside the truck for 14 hours or more – it is really important to us that they feel comfortable, they feel they have space, so that they deliver the best possible production."
Chromaline was handed the challenge of maximizing the internal space, by designing an efficient yet reliable infrastructure. Central to this is the Platinum IP3 router from Imagine Communications, which in OBX has 512 x 1024 video I/O and 8000 x 8000 audio I/O. The video signals can be HD or 4K Ultra HD, in either quad link or 2SI formats. As well as switching, the Platinum IP3 also hosts audio and video signal processing, and drives the 14 multiviewer displays inside the production area.
The architecture also includes the Selenio MCP modular solution for signal processing, including Dolby E encoding and management, and Selenio 6800+ modular processing units. To simplify system management, and to provide a fast turnaround between jobs, the infrastructure is controlled by Imagine's Magellan SDN Orchestrator in combination with hi, human interface, an intuitive and easy-to-use control software layer for live broadcast and media infrastructures.
"I have been working in outside broadcast since I was 14 – I grew up inside an OB truck!" said Nicola Dall'Asta, CEO of Chromaline. "I knew that to create the comfortable working space that Videe wanted, we had to have a complete rethink of traditional outside broadcast design, from the layout to the cabling to the floor – everything.
"I chose Imagine for all the image processing, routing, and glue, because Imagine is the best-in-the-market for any size truck," he said. "Platinum IP3 is the only solution on the market that can deliver the number of wideband signals Videe required. Having processing and multiviewers inside the router saves a lot in the cost and time of cabling, and it saves space which we can give to the people."
OBX is a triple expanding trailer, built by Tomassini Style. When expanded to its full capacity on site, OBX offers 76 square metres internally, the size of a city apartment. It is laid out in a double control room configuration, making it ideal for host broadcast productions at the biggest events. Despite the high level of functionality OBX provides, the crew have plenty of room and a logical layout — a comfortable operating environment leading to higher levels of productivity.
"The system designs by Nicola and his colleagues at Chromaline are always inspiring and innovative, and ultimately very rewarding," said Mathias Eckert, SVP & GM EMEA/APAC, Playout & Networking, at Imagine Communications. "We have worked with them on a number of production trucks recently, giving us the chance to demonstrate that our technology delivers the space and power savings modern architectures demand, without compromising functionality or reliability."
Upgrades Playout for Australia's NPC Media
The National Playout Centre was first established by Nine Network 10 years ago, and today provides playout facilities for more than 106 free-to-air broadcast channels. Already one of the largest broadcast operations in the APAC region, the center relies on Imagine Communications' Versio playout and master control, D-Series playout automation and Nexio media servers and content management services to provide end-to-end media management for program integration, live sport and multimedia distribution.
"Central to the design of the expanded technology platform is the ability to adapt more seamlessly to changing market demands," said Chris Howe, General Manager, Commercial and Technology at NPC Media. "Imagine Communications' Versio product strategy allows us to confidently manage our current baseband/SDI infrastructure, and more swiftly and economically transition to a full range of software-defined, commercial off-the-shelf IP-based media services. This will benefit our NPC Media clients and the wider Australian viewing public."
The first phase of the expansion of NPC Media has seen the incorporation of Seven's key broadcast operations into the NPC facility, and the progressive transformation of the center from a single-station facility to a contemporary, IP-based, multi-tenanted managed media services provider to the broadcast industry. Seven's channels went live from NPC Media on 21 August 2019.
The next phase will see the implementation of Southern Cross Austereo's broadcast channels into NPC later this year. This phase will see the deployment of the Imagine Communications playout solutions across two sites — main at NPC, with protect located at Telstra Broadcast Services facility in Sydney — providing geo-diverse redundancy for NPC Media and its customers.
Combined, these exciting first phases of the launch will support more than 211 live terrestrial television channels managed by NPC Media, together with a further 392 passthrough multiplexed channels. This approach will deliver new levels of operational and cost efficiencies not previously achievable using traditional technology platforms.
To support this massive endeavor, NPC Media will implement an end-to-end broadcast playout chain from a common ingest platform through to software-based channel origination, which is based on Imagine Communications' proven, award-winning Versio product suite. Versio was first deployed by the Nine Network to integrate NBN Television's playout operations into the NPC in June 2018. Imagine Communications provided a full IP solution running under D-Series control and seamlessly integrated into the center's existing baseband system, enabling Nine to manage the NBN Regional channels, as well as realize new advertising and revenue opportunities by breaking into a seventh regional market, in Northern New South Wales.
"As proven with NBN, the ability to progressively introduce our new IP-based Versio platform, whilst retaining the day-to-day operations under Imagine Communications' D-Series automation platform, allows NPC Media to transition its customers to the new platform more easily and efficiently," said Joe Khodeir, head of sales Australia and New Zealand at Imagine Communications.
Khodeir continued, "We have been working closely with NPC Media and its customers for over a decade. During that period, our platforms and services have helped them profitably address the dynamics of a constantly changing, multiplatform and 'on-demand' media business, and to implement new services to help reduce costs and deliver new offerings to market more quickly."
Running as software instances on commercial off-the-shelf (COTS) hardware, the Versio solution delivers playout, master control and graphics in a single device all under the control of D-Series. Versio is based on Imagine Communications' visionary Zenium microservices platform, which allows tight integration of third-party products; for example, NPC Media is running Vizrt graphics on Versio to support its premium channels, while Versio Graphics are used for channels with less complex graphics requirements.
The new implementation includes the Versio IOX NAS high-performance shared storage and Imagine's EPIC MV hybrid IP multiviewer. Integration between baseband and IP systems is managed by the company's Magellan SDN Orchestrator, which also supports seamless switching, whether through a baseband router or an IP switch.
Tom Cotney, CEO at Imagine Communications, added, "This is a remarkable project — one of the boldest in the world — and we are proud to have been chosen as technology partner by NPC Media. The Australian market is hugely important to us, and we look forward to future innovation with Australia's largest managed media services provider."
OTT Monetization
Based on broadcast and multiscreen distribution offerings that have been deployed globally, the cloud-based, cross-platform managed service features proven functionality and simplified browser-based management, without requiring local equipment and hosting. Imagine is collaborating with global streaming TV platform provider MOBITV to incorporate seamless content monetization capabilities into live connected TV and OTT video services, to eventually include VOD and cloud DVR.
"Video delivery business models have been turned upside down and distributors need every edge they can get to continue offering robust, profitable services," said David Heppe, Commercial General Manager for Imagine Communications. "Our OTT Monetization Service removes many of the heavy lifts that come with installing, operationalizing and updating next-gen ad tech. Especially as our customers pursue new business models in a hyper-competitive video delivery ecosystem, our focus with this new offering is to free them to focus on overcoming market challenges."
Video distributors deploy Imagine OTT Monetization Service to support dynamic ad insertion for linear and OTT services with hosting, management, monitoring and updates all provided by Imagine. Imagine OTT Monetization Service capitalizes on the scalability, redundancy, and security offered by AWS and robust capabilities of AWS Media Services, initially including AWS Elemental MediaConvert. OTT Monetization Service eliminates complexities of video providers' on-premises ad systems, including support for multiple ADS vendors, client players, and video formats, as well as the need to dynamically scale for peak demand.
"Our customers rely on us to deliver broadcast-quality video to connected devices, and having a seamless DAI function that supports enhanced monetization is a critical enabler," said Bill Routt, President for MOBITV. "The team at Imagine has delivered a highly reliable, feature-rich OTT monetization service that can drive revenue for the offerings we enable, and we look forward to growing our services and opportunities together."
Imagine OTT Monetization Service integrates seamlessly with traffic and scheduling systems, and ensures ads are dynamically aligned with audience demographics. This increases efficiency and effectiveness for video providers and advertisers, using comprehensive video packaging to maintain metadata flexibility and ensure quality distribution to all devices. OTT Monetization Service is differentiated by the ability to replace advertisements in existing workflows, which is critical for maximizing revenue against all content. It is targeted to providers that want to reduce costs, operational complexity and time-to-market with a solution that supports spot-based and audience-based ad inventory sales across both traditional linear and OTT platforms. The service is a managed offering based on functionality from Imagine's Targeted Delivery portfolio, a set of comprehensive linear and digital solutions that can be individually integrated into existing networks, managed and monitored 24/7. It is compatible with Imagine inventory optimization solutions for video distributors that want to maximize inventory and improve yield of audience-based ad buys.
"Media customers can efficiently generate ad revenue by using the Imagine OTT Monetization Service built on AWS, using AWS Elemental Media Services for dynamic ad insertion into live and on-demand video services, along with Amazon CloudFront for distribution of that content at scale to viewing devices," said Khawaja Shams, vice president of engineering Engineering, AWS Elemental. "This combination also helps customers to quickly launch their new ad-supported linear and OTT services."