IBC 2019: Matrox announces multiple tech collaborations, passes JT-NM interop test, and unveils new codec card
At IBC 2019, Matrox (stand 7.B15) nailed down multiple partnerships with Vimeo, Avid (stand 7.B55), and Vizrt (stand 7.B01). In addition, the Matrox X.mio5 Q25, Matrox X.mio3 IP, and Matrox DSX LE5 D25 SMPTE ST 2110 network interface controller (NIC) cards have all successfully passed the most recent Joint Task Force on Networked Media (JT-NM) Tested program for both the SMPTE ST 2110 standard and the NMOS/JT-NM TR-1001 specification. Finally, the Matrox M264 S4 H.264 hardware codec card is now shipping.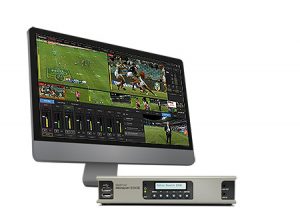 Tech Collaborations
Matrox and Vimeo will join forces to showcase cloud-based, multi-camera video production workflows over public networks. This technology collaboration will feature the Matrox Monarch EDGE encoder delivering four Full HD camera feeds to the Vimeo Studio 6 Live Production Switcher software for broadcast-quality, yet cost-effective multi-camera productions for live event streaming.
Matrox Monarch EDGE enables a paradigm shift in how live event producers create exciting multi-camera content using the power of the cloud. This powerful encoder increases operational efficiency while minimizing on-site expenses by keeping the talent and/or production crew in-studio. The Monarch EDGE 4K UHD/multi-HD, low-latency encoder delivers up to four synchronized, secure 1920x1080p60 camera feeds from the field to a cloud-based production system to produce high-quality live programming. Cloud-based productions mean fewer production staff and equipment are required in the field, lowering travel expenses and logistical costs.
Vimeo Studio allows remote multi-camera production by receiving video sources over IP, with input switching, transitions, graphics, clip playback, ISO recording, audio mixing, and a host of other production features all performed in a software solution. This enables resources to be distributed anywhere in the world and unlocks potential for new efficiencies with productions traditionally restrained by on-premise demands. The finished output can then be live streamed on the Vimeo platform and simulcast to services such as Facebook and YouTube. Studio software is included with a Vimeo Premium subscription.
"The Vimeo Studio Live Production Switcher software and Matrox Monarch EDGE collaboration transforms the way live event producers can share engaging content with their audiences," said James Page, director of business development, Vimeo. "It's a simple yet enriched workflow equipped with all the essential multi-stream encoding, multi-camera switching, and graphics capabilities to deliver world-class, cloud-based productions."
"Matrox Monarch EDGE's powerful streaming and synchronization capabilities, combined with the Studio Live Production Switcher software, provides unprecedented flexibility for live event production," says Alberto Cieri, senior director of sales and marketing, Matrox Video. "This effective combination gives live event producers a convenient and efficient platform from which to deploy the highest quality video over IP—and more of them, given the cost savings absorbed by keeping more staff and equipment in-house."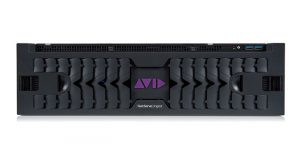 Next, Avid's FastServe | Ingest video server now supports Matrox M264 S2 H.264 codec cards for multi-channel XAVC, live production workflows. This technology collaboration allows the powerful, next-generation FastServe | Ingest video servers to encode up to eight high-quality XAVC streams simultaneously from in-studio cameras, satellite feeds, and other input sources. FastServe | Ingest will demonstrate the benefits of multi-channel HD and 1080pXAVC workflows at IBC 2019, on Avid stand 7.B55.
Designed to help live news, sports news, entertainment, and multi-camera productions overcome the challenges of baseband ingest, Avid FastServe | Ingest video servers integrated with Matrox M264 S2 codec cards can now deliver leading-edge, XAVC-based solutions. Capable of encoding/decoding up to two 4Kp60 (XAVC 4K Intra Class 300/480 and XAVC 4K Long), 20 HD (XAVC Class 100 or XAVC Long 25/50), or 32 HD streams—in real-time with zero CPU usage—M264 S2 enables the FastServe | Ingest video server with unprecedented encoding support: eight XAVC Intra Class 100 HD or 1080p ingest channels coupled with eight high-quality proxy channels, which are instantly available for Edit While Capture in Media Composer and MediaCentral | Cloud UX. Matrox M264 S2 provides FastServe | Ingest the simplest, most cost-effective means of managing computationally demanding, high-density XAVC requirements for live production workflows.
"The Avid FastServe family is designed to accelerate today's demanding workflows so broadcasters can get better content to air first, and Matrox M264 hardware codec card has enabled us to do just that with FastServe | Ingest for XAVC implementations," said Eyal Stessel, Senior Principal Product Manager – Video Servers at Avid Technology. "The M264 card has essentially equipped the FastServe | Ingest server with new superpowers for instant XAVC quality and density boost so editors can quickly and easily access, edit, and share more footage than ever before, ultimately helping production teams deliver the best news stories and live sports coverage possible."
"Matrox M264 cards have helped make an already accomplished ingest server even more valuable in the Avid FastServe | Ingest platform," says Cieri. "The integration of the M264 cards with FastServe | Ingest is seamless, but more importantly, allows Avid to immediately address the XAVC 1080p gap that broadcasters face, especially for multi-channel workflows. We are thrilled to see our HD and 4K-capable codec cards transform these ingest servers with next-level encode/decode support."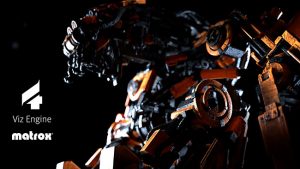 Lastly, Vizrt, the software-defined visual storytelling (#SDVS) platforms, has selected the Matrox X.mio5 Q25 SMPTE ST 2110 network interface controller (NIC) card to power its Viz Engine 4 render engine. The next generation of Vizrt's core graphics engine and video compositing platform, Viz Engine 4 leverages the Matrox X.mio5 Q25 25 GbE NIC card to enable unrivaled multi-channel 4K video I/O over 25 GbE for virtual studio set and augmented reality productions.
Attendees of IBC 2019 will be able to see the platform drive photo-real, augmented reality graphics at The Big AR Sports Show, daily on the Vizrt booth.
Viz Engine 4 revolutionizes how virtual studio sets and augmented reality graphics are designed, rendered, and combined with live video. The programmable graphics pipeline features physical-based rendering and global illumination to help build the foundation, with options like reflection and depth of field providing extra realism. The new Fusion Keyer control meanwhile, allows users to perfectly immerse presenters into a virtual environment, giving a clean, unobtrusive key for ultra-realistic results.
Designed to future proof the Viz Engine 4 ecosystem, the latest render engine features Matrox X.mio5 Q25—a cutting-edge NIC card with multi-channel IP video I/O support from HD to 4K, on-board multi-channel HDR conversions, along with motion adaptive de-interlacing, pristine scaling, and powerful compositing engines for high-density 4K video processing. Architected as a video-aware COTS SMPTE ST 2110 NIC, Matrox X.mio5 Q25 delivers 24/7 reliability and interoperability required of broadcast equipment, while offering the flexibility and scalability expected of IP infrastructures including standard network stack functionality.
"Vizrt is extremely pleased with the seamless and successful implementation of the Matrox X.mio5 Q25 NIC card into the Viz Engine 4 technology," said Gerhard Lang, Chief Technology Officer at Vizrt. "X.mio5 Q25's ground-breaking board design boosts the platform's compositing capabilities, enables flexible multi-channel high-resolution and HDR output functionality, and provides advanced SMPTE ST 2110 support, making Viz Engine 4 the most future-ready platform on the market."
"The evolution of Vizrt's graphics engine continues, and we are happy to see Matrox SMPTE ST 2110 cards play an integral role in this development," said Cieri. "Backed by Matrox X.mio5 Q25's industry-leading SMPTE ST 2110, IP, UHD, and HDR support and expertise, Viz Engine 4 empowers broadcasters, content producers, and journalists to explore unique and innovative designs to maximize their storytelling potential."
JT-NM Interop Test
Matrox's participation and technical contributions to the testing initiative represents a renewed commitment in maintaining the highest standard for multi-vendor interoperability in SMPTE ST 2110, IP-based deployments.
Returning to the IBC 2019 IP Showcase, the JT-NM Tested program offers prospective purchasers of IP-based equipment with greater, more documented insight into how vendor equipment aligns with open industry standards. The Matrox X.mio5 Q25, Matrox X.mio3 IP, and Matrox DSX LE5 D25 cards underwent the rigorous JT-NM testing program, with each of them seamlessly serving as reference sources for the SMPTE ST 2110 trial. For the NMOS/JT-NM TR-1001 trial, the same Matrox NICs demonstrated their built-in NMOS support with predictable, system-level connectivity for the TR-1001-1 technical recommendation. With built-in support for the NMOS IS-04 Device Discovery and Registration, NMOS IS-05 Device Connection Management, NMOS IS-09 System, LLDP, DHCP, and DNS-SD specifications, Matrox NICs completely abstract all low-level design work enabling OEMs to readily integrate their solutions into the ST 2110 network environment.
Featured Matrox ST 2110 cards in the JT-NM Tested program:
Matrox X.mio5 Q25 ST 2110 quad 25 GbE NIC card for IP workflows from HD to 4K
Matrox X.mio3 IP ST 2110 NIC card with multi-channel video I/O over 10 GbE plus onboard video processing
Matrox DSX LE5 D25 ST 2110 dual 25 GbE NIC card for IP workflows from HD to 4K
"Matrox has been a long-time supporter of the SMPTE ST 2110 standard, and we are thrilled to continue this commitment through JT-NM's IBC 2019 Tested program," says Cieri. "Backed by our unique combination of IP know-how and broadcast expertise, Matrox NICs are built to offer the simplest path from SDI to ST 2110, while guaranteeing complete network interoperability and 24/7 reliability for next-generation ST 2110 workflows."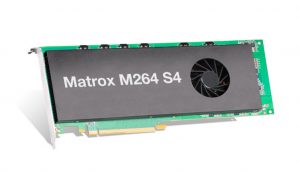 Matrox M264 S4 H.264 Hardware Codec Card
Having recently completed the official XAVC verification program by Sony Imaging Products & Solutions (Sony), the Matrox M264 S4 codec card supports up to four 4K channels of XAVC Intra, XAVC Long, or AVC-ULTRA encoding/decoding from a single-slot card. Combined with onboard de-interlacing and scaling functionality, the Matrox M264 S4 card provides a simple, cost-effective means of managing computationally demanding, high-density 4:2:2 10-bit and 4:2:0 8-bit workflows. Broadcast OEMs can now deliver exceptional encode/decode performance using standard, PC-based solutions to enable multi-channel platforms such as 4K instant replay systems, channel-in-a-box systems, video and ingest servers, broadcast graphics systems, multiviewers, high-density transcoding systems, and more.
Designed specifically for high-density and pristine-quality, H.264-based encoding/decoding (Baseline Profile to High 10 Intra Profile up to Level 5.2), the Matrox M264 S4 card provides XAVC-validated and AVC-ULTRA-compliant presets. The Matrox M264 S4 card can encode/decode up to four 4Kp50/60 streams of XAVC 4K Intra Class 300/480, XAVC 4K Long 4:2:2, or AVC-ULTRA in real-time with zero CPU usage—while the "highest-end" multi-socket PCs struggle to achieve just one real-time encode. The M264 S4 card can also encode/decode up to four streams of 4Kp60 at 4:2:2 10-bit, 40 streams of HD Long GOP at 4:2:2 10-bit, or 64 streams of HD at 4:2:0 8-bit, with ultra-low power consumption, in the smallest footprint.
The Matrox M264 S4 card is supported by the field-proven Matrox DSX SDK, which boasts an extensive set of powerful media processing modules—including file input/output (I/O), software codecs, and CPU effects—for rapid application and system development. The M264 S4 codec card also provides plug-ins for H.264 transcode acceleration into the FFMPEG framework.
"The Matrox M264 codec card family has long been the de-facto, multi-channel 4K XAVC solution for PC-based platforms, so it comes as no surprise that OEMs are excited about the availability of the industry's only four-channel 4Kp60 XAVC codec card," says Cieri. "The M264 S4 card provides OEM solutions with an exceptional UHD and HDR encode/decode density, quality, and performance boost, making PC-based 4K workflows easy."
The Matrox M264 S4 codec card is now available. To learn more about this new card, contact Matrox.