IBC 2019: MediaKind launches cloud-based solutions to deliver value for TV service providers, content owners, broadcasters, and operators
At IBC2019, MediaKind (stand 4.A01) has launched its first range of application-specific packaged solutions from the MediaKind Universe portfolio – Aquila Streaming, Cygnus 360° Events, Cygnus Contribution, and Cygnus Distribution. The announcement of MediaKind's first solutions packages address specific needs for core broadcast contribution and distribution applications and for delivering immersive OTT streaming services, multichannel HD or single channel UHD, remote 'at home' production and 360-degree video content, particularly around live events.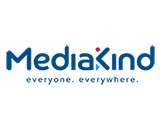 These scalable solutions enable service providers, operators, content owners, and broadcasters to launch new offerings without the need for additional infrastructure or on-site operational teams, while still retaining the flexibility to manage their own content. The tailored packages represent the first step in MediaKind's wider strategy to offer complete solutions for core broadcast contribution and distribution, multi-purpose media headends, efficient storage and delivery and differentiated consumer experiences that directly address the challenges of today's media landscape.
Mark Russell, Chief Strategy and Corporate Development Officer, MediaKind, said: "The media industry is increasingly shifting towards cloud-based, software-defined, as-a-Service offerings to reach, attract, and retain the attention of modern-day consumers. Through the launch of our solution packages, we are enabling our customers to reduce CAPEX spend, to optimize the use of existing system architectures and the flexibility to spin new services up and down as required, including live OTT and 360-degree video offerings. Drawing on our rich and longstanding heritage in the media space, we are reacting to these market transitions by providing the seamless delivery of high quality, immersive experiences across all viewing environments."
Direct-to-Consumer OTT services
Aquila Streaming
Aquila Streaming is a convergent, cloud-based OTT and broadcast headend solution that enables content to be received, transcoded, multiplexed, packaged, encrypted and managed whether off-premise, as an on-premise solution, a channel as-a-Service or as a cloud-native offering. This flexible solution provides operators with a 'one-stop-shop' solution to quickly launch OTT services without compromising on the end quality to the consumer. With Aquila Streaming, tier one and two operators can manage and operate live convergent OTT and broadcast headends more easily and can also benefit from new and innovative revenue streams with personalized and targeted dynamic ad insertion.
360-degree video as an application of OTT streaming
Cygnus 360° Events
Developed on MediaKind's award-winning technology in 360-degree video delivery, Cygnus 360° Events is designed to enable operators and content owners to complement their existing live services with 360-degree video as an additional service offering. From a single high-quality contribution source, MediaKind can process and deliver live 360-degree video into suitable resolutions (up to 8K) and formats for simultaneous live publishing to an operator's app over public CDN, as well as via social media platforms. The solution also includes 24/7 technical support and monitoring throughout the staging and broadcasting of the event, reducing delivery risk and the need for skilled staff on-site.
Broadcast contribution and distribution
Cygnus Contribution
This highly flexible solution, targeted at the market for acquiring and exchanging content, provides high quality, low latency, point-to-point live contribution links via satellite or IP networks, including reliable ingest into a public cloud. The live contribution links include HDR support via satellite or over fiber, offering the flexibility to support the latest in IP interfaces and content protection standards. Cygnus Contribution also enables a cost-effective remote or at-home production solution using HEVC to maximize bandwidth efficiency.
Cygnus Distribution
This cost-effective primary distribution solution enables operators and broadcasters to distribute live content via satellite and IP networks. Cygnus Distribution enables secure, reliable ingress and egress of live video and audio from public cloud instances as well as reliable transport within the cloud itself. When paired with MediaKind's modular receivers and MK Director, its control and conditional access management software product with 128-bit encryption, Cygnus Distribution provides a flexible and futureproof offering that secures high value, premium content across all distribution networks. As well as enabling regional and local ad insertion, this new packaged solution opens the path towards low risk migration from satellite to IP network distribution.