IBC 2019: MediaKind makes numerous product and partnership announcements, wins CSI Innovation award
MediaKind (stand 4.A01) has made numerous announcements at IBC 2019 that include a few partnerships, product launches, and award recognition.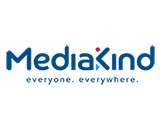 AV Solution to Enable Low Latency
The solution leverages 'direct path' technology between encoder and packager to reduce the time to move content from one media processing function to the next. When combined with other MediaKind products, this optimized AV solution can dramatically enhance ABR content delivery, including high-quality encoding using a constant video quality (CVQ).
Today, streaming video from a live event such as sport has an element of delay when watching on a mobile or second screen device. The delay is due to content being captured, encoded, packaged, stored and then moved over to content delivery networks (CDN) for delivery to end consumers. To reduce latency and enable consumers to see the action as close to real-time as possible, MediaKind has developed a solution that addresses the layers of delay that cause high glass-to-glass latency in OTT streaming and ABR content from 45-60 seconds to 3-7 seconds. The solution combines components from its Aquila solutions portfolio, including linear encoding, packaging, and video storage & processing, to provide advanced technology for consumer delivery of next-generation TV services.
Richard Mansfield, Director of Advertising and Media Delivery Platforms, MediaKind, said: "Reducing latency for live unicast content across distribution and devices is a key topic for today's media industry, especially with the schedule of live international sports next summer. Therefore, it's imperative TV operators, content owners and service providers using ABR delivery are armed with the latest technology that will reduce latency for delivering live OTT and streaming services. MediaKind can provide a glass to glass solution for reducing latency that is pre-integrated and tested, taking the burden away from dealing with multiple vendors and overcoming interoperability of individual components."
The solution supports the CMAF standard, which aims to bring a single standard to segmented media for delivery and decoding to an end user device. It complements CTE for Dynamic Adaptive Streaming over HTTP (MPEG-DASH) as a packaged output format. This greatly reduces the minimum data size of a delivered segment down to an individual chunk, instead of multiple seconds of video, and is optimized to integrate with media players to minimize latency whilst enabling reliable delivery.
It brings together the enriched capabilities of MediaKind's technologies: Encoding Live, Video Storage & Processing Platform (VSPP) and MediaKind Packaging. When combined with other MediaKind offerings, it can provide ABR content delivery, and ensure high-quality encoding delivering a constant video quality.
Premier League Content in Iceland
Síminn, the Icelandic broadcaster, has selected MediaKind to protect and deliver its live high definition (HD) and ultra-high definition (UHD) broadcasts of football matches from the English Premier League to fans across Iceland.
The deployment will include MK RX1, a multi-codec, multi-service professional decoder that is designed to maintain the integrity of valuable, high quality, content across contribution networks, with the lowest latency in the media industry. The initial application is to enable Síminn to decode high bit-rate UHDTV services, maintaining high video quality for content manipulation use cases across the entire video delivery chain.
The deployment also includes MK Director, a control and conditional access management software product, prohibiting unauthorized access and managing the primary distribution of this highly valuable live sports content to Síminn.
MK RX1's software and application-based design will allow Síminn to decode up to 12 live feeds at once, before distributing them via MK Director. The low latency solution ensures content is delivered to audiences as close to real time as possible, across multiple devices. The versatile and flexible nature of MediaKind's RX1 applications offers a multitude of different processing functions and capabilities which can be provided as a traditional receiver appliance or as software to be executed on a commercial off the shelf (COTS) platform, including public or private cloud instances.
Bjarki Jónsson, Manager, TV Department, Síminn, said: "Live sports coverage has a unique ability to captivate the imaginations of viewers all over the world and we want to give Icelandic fans the best possible, high quality experience of the beautiful game. By partnering with MediaKind and using their industry leading RX1 solution, we will deliver the best football moments as they happen in the highest picture quality with the lowest latency."
Damien Montessuit, Regional Head, EMEA, said: "We are excited to work alongside Premier League Productions and Síminn to enable outstanding, live UHD matchday experiences for football fans across Iceland. Through the deployment of our contribution and distribution solutions, we can provide greater flexibility, superior low latency and highly advanced encryption to optimize the value of Siminn's live coverage of one of the world's most popular sporting leagues."
MK RX1 can decode UHD, HEVC, HD HEVC, MPEG-2, and MPEG-4 AVC compressed streams, whether 4:2:0 or 4:2:2, 8-bit or 10-bit and produce uncompressed outputs via a range of outputs. Different combinations of codec can be utilized simultaneously to maintain flexibility for onward processing. MK Director is capable of offering advanced 128-bit encryption – coupled with forensic watermarking technology – to deter and help prevent piracy of high value content from a broadcaster or content owner's distribution network, as well as better protecting subsequent copies or streams.
2019 Pan American Games
Brazilian TV network RecordTV has also chosen MediaKind to enable its delivery of over 1,000 hours of programming of the 18th Pan American Games, across its Play Plus streaming services, R7 news portal and Record News and RecordTV channels. The Games took place in Lima, Peru, between July 26 – August 11, 2019.
Among the technical challenges RecordTV faced in preparation of its coverage of the 2019 Pan American Games was a change in the default encode of the transmitted satellite images delivered by the host producer, who opted to use the HEVC 4:2:2 codec rather than commonly used H.264 4:2:0 standard. To receive these satellite signals, RecordTV deployed MediaKind's RX8200 Advanced Modular Receivers, the world's best-selling integrated receiver decoder (IRD).
The successful integration of the RX8200 receivers enabled RecordTV to benefit from an upgraded IRD, offering backward compatibility with HEVC 4:2:2 encoding to both reinforce its existing capabilities and deliver a smooth pathway towards new standards. Avicom Engenharia, MediaKind's channel partner in Brazil, acted as the project's system integrator.
Sergio Bruzetti, Project Engineer, RecordTV, said: "This is the first time we have attempted to decode 4:2:2 video and to ensure the successful delivery of such high value, live content, we naturally opted to extend our long-standing partnership with Avicom Engenharia and MediaKind. Through the acquisition of MediaKind's RX8200 Advanced Modular Receivers earlier this year, we were able to seamlessly configure and tailor the units into our infrastructure by the time the Games began in late July. The implementation of this IRD provided the necessary functionality to meet our operational requirements and enabled the delivery of a high-class broadcast of this prestigious sporting event."
Geraldo Marques, the station's Technical Systems Manager, further explains that MediaKind RX8200 receivers will be incorporated into the broadcaster's reception park, as well as backward compatibility with HEVC 4:2:2 encoding, they support earlier standards such as MPEG-4 4:2:0. This reinforces RecordTV's current capabilities and ensures a smooth evolution to new standards.
In addition to HEVC decode capabilities, MediaKind's RX8200 IRD offers satellite operators optimal bandwidth efficiency gains through full support of the DVB-S2X international open standard. Combined, the technologies offer a step-change in transmission efficiency, enabling operators such as RecordTV to dramatically reduce operational costs or free-up bandwidth to launch new revenue generating services.
Jaime Ferreira, Director, Avicom Engenharia, said: "The 2019 Pan American Games involved 6,000 athletes from 41 countries in 417 events across 38 sports and reached an international audience of over 400 million viewers. Broadcasting such a large event to viewers is a highly complex challenge and RecordTV had a very successful Games. Its team of expert professionals worked tirelessly to bring together all the beautiful images of the various disciplines, medal ceremonies and expert commentary to audiences in Brazil, across multiple platforms. It was an honor to work with RecordTV to deliver its coverage and through MediaKind's leading compression technology, we were able to leverage enormous efficiency gains in receiving and transmitting these live streams."
Capable of decoding a multitude of video formats and offering total connectivity for all transmission mediums via a comprehensive and modular choice of options, MediaKind's RX8200 IRD offers a bespoke world-class offering that delivers true operational flexibility. This feature-rich platform provides a complete low latency suite of tools, enabling all broadcasters to optimize their content contribution and news applications.
Clayton Cruz, Regional Head, Latin America, MediaKind, said: "We are proud to contribute our technology and enrich the user experience of RecordTV's extensive and widespread coverage of the Pan American Games in Brazil, a competition which is enjoyed and celebrated by millions of people throughout Latin America. By collaborating with our channel partners Avicom Engenharia on this exciting project, we continue to demonstrate our ongoing commitment to raising broadcast standards in the region and always providing our customers with the highest level of excellence."
 Global Technology Alliance
Also, the company has launched the MediaKind Universe Alliance – a technology partnership program which gives content providers, service providers, and operators access to complete solutions that combine technologies and services from MediaKind with leading partners in Cloud and other offerings. It enables critical industry collaboration for and seamless delivery of joint solutions with a goal of advancing all aspects of video delivery and experience, with special effort and focus on industrializing OTT video to broadcast-quality and scale.
With its integrated and growing group of partners – which span from cloud-based services to self-service enablement for as-a-Service (aaS) offerings to monitoring and quality of experience – the MediaKind Universe Alliance offers application-specific, end to end solutions that directly address the challenges of content providers, service providers, and operators. It responds to the growth of as-a-Service solutions across the media chain and the need for more agile and flexible pathways towards cloud-based, bandwidth-efficient, IP-centric offerings. By harnessing the complementary technology and resources of the MediaKind Universe Alliance partner program, customers can tap into a wealth of expertise, fast-to-deploy solutions, and managed services to gain a highly edge in an increasingly fragmented media landscape.
Raul Aldrey, Chief Business Officer, MediaKind, said: "We are proud to announce the MediaKind Universe Alliance program at IBC2019. The aim of the program is to build lasting connections with our technical partners and continue to launch new, innovative real-world solutions for our customers. By investing time and resources in these long-term and mutually beneficial relationships, we can continue to push the boundaries across the entire media chain. Customers can tap into a wider range of compatible technologies and infrastructures that respond to today's shifting media landscape."
The MediaKind Universe Alliance has been designed to deliver highly flexible, interoperable and standardized technologies, inclusive of multiple customer choices for cloud services and other partner technology and services. The program is guided by principles of open standards and welcomes partners who, through mature technology and proven delivery capabilities, demonstrate the ability to contribute to the advancement of quality and scale of next-gen video delivery and experience, especially within the streaming video ecosystem.
Recent examples of MediaKind partnerships established to positively impact the scale and quality of video delivery include (but are not limited to):
Evergent: MediaKind is partnering with Evergent to provide a superior self-service experience for subscribers using their flexible revenue and customer lifecycle management solution to accelerate time-to-market for direct-to-consumer service offerings from content publishers and pay TV operators who want to incorporate streaming pay TV.
Google Cloud: Announced at NAB Show 2019, this partnership allows MediaKind customers to access Google Cloud's portfolio of solutions and services and tap into a highly advanced combination of end-to-end TV analytics and machine learning capabilities.
Microsoft Azure: MediaKind has partnered with Azure for customer deployments of the cloud-based Mediaroom and MediaFirst TV platforms as a Service.
Telestream: MediaKind is partnering with Telestream, combining our award-winning media delivery products with the power of their market leading monitoring solution to bring the highest quality OTT delivery.
Tiledmedia: MediaKind's collaboration with Tiledmedia has resulted in the inclusion of its ClearVR 360-degree video technology within MediaKind's new Cygnus 360 Events packaged solution.
Integrated Receiver Decoder
MediaKind has announced its MK RX1 IRD has been awarded the "SMPTE ST 2110 Tested" badge from the JT-NM Tested program of the Joint Task Force on Network Media. This achievement highlights MediaKind's continued commitment to delivering all-IP media workflows, with the SMPTE ST 2110 suite of standards considered the most advanced in the media industry today.
With the growing convergence of mobility, social and broadband, the need for software-defined media processing, cloud architecture and IP-connected video is now an industry imperative. IT infrastructures provide native economies of scale and levels of flexibility that offer a compelling incentive for broadcasters and operators looking to migrate from broadcast-specific architectures to IT-based solutions.
The SMPTE ST 2110 output capability enables all-IP ecosystems, with separate essence-based IP transport of fully uncompressed video, audio and data. This offers both a commercial gain and simplification of the content network over traditional SDI workflows. The video-format-agnostic standard supports Ultra HD, HDR, as well as other new and emerging formats, and when integrated with MK RX1, can deliver greater flexibility and agility within a media facility.
Matthew Goldman, Senior Vice President Technology, MediaKind and SMPTE Past President, said: "SMPTE ST 2110 standards are helping to steer the future of the media industry at a time when broadcast and other professional media applications are migrating towards increasingly all-IP, cloud-native environments. For customers already on their all-IP journey, MediaKind's MK RX1 IRD is a durable, software-based contribution offering that doesn't require additional interoperable hardware to achieve a functioning set. Our solution, which is compatible with network interfaces on commodity ethernet switches and commodity servers, offers the perfect choice for operators and service providers looking to operate in full all-IP workflows while maintaining the quality of their high-value content."
MK RX1 is a highly flexible, COTS (commercial off the shelf) product enabling a range of different processing functions such as satellite demodulation, decryption, decoding, and stream processing to be provided in a single powerful, futureproof appliance. MK RX1 is part of MediaKind's end-to-end Cygnus solutions for contribution and distribution applications.
CSI Innovation Award
The company has been awarded 'Best Virtual Reality Innovation' at the 2019 CSI Awards for its work in delivering 360-degree video as-a-service for live events. The prestigious awards, which CSI Magazine has been running for 17 years, recognize and reward innovation and excellence in the cable, satellite, broadcast, IPTV, telco, broadband/OTT video, mobile TV and associated sectors. The award was presented during a ceremony at IBC 2019 in Amsterdam on September 13, 2019.
Carl Furgusson, Vice President, Portfolio Management, MediaKind, said: "We are delighted to receive a CSI Award for our work in enabling 360-degree video delivery. We have been recognized for pushing the boundaries of next generation, immersive viewing experiences.
"There are a multitude of ways that 360-degree video content can be applied to re-shape the way viewers engage with live sports, esports, music and other forms of entertainment. Our cloud-based, live 360-degree video, operates on a pay-per-event service model, which provides the tools for broadcasters, operators, content creators and owners to access a simple, cost effective next generation solution."
Cygnus 360° Events enables the efficient capture and processing of high quality live 360-degree video at 8K resolution and delivers content to the consumer with delivery bitrates of between 15-20Mpbs. From a single-high quality contribution source, live 360-degree video can be processed into suitable resolutions and formats for simultaneous live publishing to an operator's app over public CDN, as well as via social media platforms. The solution also includes 24/7 technical support and monitoring throughout the staging and broadcasting of the event, reducing delivery risk and need for skilled staff on-site.
With viewport adaptive tile-based 360-degree video, live capture can be increased beyond 4K resolution, without the need of the consumer display device requiring a matching capability for full resolution decode. While this increases image quality, it also results in lower delivery bitrates and associated CDN costs compared to previous methods of 360-degree processing and delivery.