IBC 2019: Panasonic readies to exhibit broadcast shoulder mount, 8K camera, and 4K switching
Panasonic (stand 11.C45) will showcase its new AJ- CX4000GJ broadcast shoulder mount 4K camera at IBC 2019. The product, which will launch in December 2019, follows the handheld-type AG-CX350 as the new "CX" Series lineup of 4K camera recorders. In addition, Panasonic will bring together the best of its new generation Live IP Switching solution, 8K ROI camera, and 8K organic sensor capabilities and its latest 4K switcher. Lastly, attendees will be able to see the latest Panasonic PTZ cameras and controllers in action for a range of diverse applications including live sport and indoor and outdoor entertainment events, Government and Corporate presentations and meeting room conferencing, as well as for the broadcast and recording of lectures in education.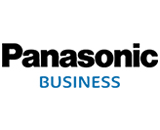 Broadcast Shoulder Mount
The AJ-CX4000GJ is a B4 lens mount, interchangeable lens camera recorder that is typical for broadcast use. It is equipped with a large-sized 11MP image sensor and enables high-quality 4K (UHD) image recording with a horizontal resolution of 2000 TV lines. It is also compatible with HDR, compliant with BT.2100 and BT.2020.
The high efficiency and high image quality "HEVC" CODEC is adopted for the recording of 4K images. Long time recording with 4K/10-bit high image quality is possible whilst keeping bitrate and storage size under control. The high speed transfer and reliable "expressP2" card or the low running cost "microP2" card (SDXC memory card can also be used) can be selected for recording media. It also supports the recording of the "AVC-ULTRA" CODEC (HD) from the conventional P2HD Series. UHD 60p/50p 10-bit 4:2:2 output via a 12G-SDI output is also possible.
Additionally, it offers an innovative network solution. Images can be distributed in HD mode to internet live streaming services using the "Direct Streaming" function, compatible with RTSP, RTMP, and RTMPS. The LAN terminal, equipped with a lock mechanism (1000BASE-T compatibility), supports NDI|HX connectivity. Transmission and camera control is possible with an IP connection and can be linked to a recording/distribution system combined with Panasonic's remote camera.
For sports events and documentary recording, this camera offers the high-quality 4K images that are required for the broadcasting industry.
Live IP Switching, 8K ROI Camera 8K Organic Sensor, and 4K Switcher
Panasonic will be presenting its brand new, IT/IP-centric platform at IBC, before the product is launched in 2020. This new generation system is not a dedicated tool: it is based on an open software architecture and will bring ground-breaking innovations to many markets in the video industry, starting with a very powerful broadcast video switcher.
This platform is fully resolution and format-independent and based on the latest technology in software and CPU/GPU processing, allowing users to allocate processing power with 100% efficiency and achieve performance levels currently impossible with traditional hardware-based products. It offers uncompressed processing, true uncompressed 4K inputs and full support of baseband and IP signals (such as ST2110 and NDI) at the same time. Fully embracing the latest IP technologies, the platform is also ready for Remote Production and can be integrated in a full IP-based environment.
Thanks to a very intuitive, extremely well designed GUI and fully customizable interface, this platform sets a new standard of usability for customers, allowing them to manage an unlimited number of video layers. And along with the support of vritually any kind of signal in a single server, the platform offers super low 1-frame latency processing, making it an extremely powerful tool in all contexts and applications. It is the perfect solution for a smooth transition to the IP world and offers a new level of flexibility and control.
"This new modular and open architecture platform is a game-changer for many customers involved in high-quality video production and delivery, either live or in the studio, allowing customers to optimise and future-proof their investment whilst maintaining the ultimate in flexibility," said Andre Meterian, Panasonic EMEA Director at the Professional Video Systems Business unit. "The Live IP Switching application is just the start for this new platform. Its video processing architecture allows users to build and run any kind of application. In the near future, this new platform will be at the heart of video production, being used as a video processor, scaler, mixer, or server. There is simply no limit to what can be achieved with this one platform for many applications."
Panasonic will also be demonstrating its latest 8K Organic Sensor technology at IBC 2019. Designed for wide camera angle shots with high resolution, the sensor is set to revolutionise commercial sports and live event coverage.
With first commercial use anticipated at the 2020 Olympic Games in Tokyo, the organic sensor technology has a number of competitive advantages. It comes with a wide dynamic range delivering more colours and higher quality images than ever before. Its Electronic Neutral Density Filter (ENDF) can reduce or introduce light more smoothly than its traditional Optical Neutral Density (OND) counterparts and its innovative Global Shutter delivers advantages over current Rolling Shutters by removing the skew when shooting fast moving images and eliminating flashband from still camera lighting at live events and press conferences.
Panasonic is also showcasing its new 8K ROI (Region of Interest) multi camera system that promises to change the landscape of broadcast production. This system includes a 8K multi-purpose camera (AK-SHB800), a processing unit (AK-SHU800) and framing control software (AK-SFC101) and goes on sale in Europe later this month at an RRP* of 130.000 €.
The 8K ROI system is able to produce 4 different HD signals or "virtual cameras" from a single 8K camera system. The 8K sensor produces a wide angle, large canvas, out of which four separate "crops" can be generated out of the processing unit.
The system improves operational efficiency, reducing operating costs on a multitude of potential production applications such as sports broadcasting, staging and studio applications. Featuring automated picture correction technology, the camera system also ensures that any distorted images are corrected and cropped with a natural, cut out, Full HD image from within the main 8K image.
Multiple cameras can be integrated across the system, with a main operator controlled camera linked to further sub-cameras, which can also be pre-programmed prior to the event. As a result, a single operator can control multiple cameras each with several pre-set crops for versatile, yet cost effective multi-camera operation.
A new 12G-SDI compatible compact 4K Live Switcher, the AV-UHS500, will also be on display at IBC 2019. The 4K Live Switcher demonstrates outstanding live video production performance in the fi¬eld for use in a variety of applications, such as event staging, broadcast at stations and OB vans, lectures at universities and conference halls.
The AV-UHS500, planned for release in February 2020, represents the next step in switching technology from Panasonic, which has rapidly gained a reputation for live compact switchers in broadcast studios, live entertainment and sport events.
The AV-UHS500 offers a high level of functionality in its range. In addition to providing 4K/3G/HD multi-format support, the device allows the same number of HD inputs and outputs to be maintained even when operating in 4K.
Five optional boards have also been developed to meet customer needs. For improved flexibility and usability, additional optional boards can be freely installed to increase the number of inputs to as many as 16 SDI* or 8 HDMI*, ensuring smooth operation at big events with a large number of cameras. The unit is equipped with 5 keyers, including 2ch of chroma-key and 2ch of PinP, to enable a variety of production effects. The switcher is also equipped with an up/down conversion function, HDR/SDR conversion function, and ITU-R BT.2020/BT.709 conversion function. These enable the flexibility to select video output as needed in environments where there are a variety of formats being used.
Remote and Robotic Solutions
The ultra-wide-angle lens AW-UE4 Compact 4K PTZ Camera will be demonstrated at the Panasonic stand at IBC. With a 111° field of view and capable of video output with three interfaces (HDMI, LAN, and USB), the AW-UE4 is ideal for large or small areas, from huddle spaces to e-sports production.
Designed with a single cable solution for video transmission, camera control, and power supply, the unit supports Power over Ethernet supply and can be used as a USB camera powered from a computer. The AW-UE4 boasts high-performance operability through RTMP (Real-Time Messaging Protocol) compatibility for direct upload of video to live-streaming services, and is also excellent for live production. It will be available from this autumn at an RRP of €1190.
Using a number of technology firsts, the Panasonic 4K PTZ AW-UE150 camera will be demonstrating its market-leading capabilities. Thanks to the adoption of the FreeD protocol, the AW-UE150 is the first PTZ camera compatible with Virtual Studio and Augmented Reality applications, which will be on show at IBC. In addition, this camera is the first PTZ capable of 4K at 50/60p and comes with the widest viewing angle on the market of 75.1 degrees.
As well as the latest cameras, the latest AW-RP150 and AW-RP60 remote camera controllers to complement Panasonic's comprehensive professional PTZ camera lineup will be on show.
The AW-RP150 has the same great functionality as the AW-RP120, and joins the lineup with significant improvements over those models, including a new one-hand operation joystick (controlling PTZ or Focus) and a large touch-panel LCD screen for monitoring and menu setting. A see-saw lever mounted on the joystick manages pan and tilt operations for zoom and focus control and intuitive single-handed operation.
The brand new AW-RP60 Remote Camera Controller unit will also be demonstrated. Equipped with a large LCD to display a GUI menu screen with clear visibility and an improved joystick for smoother control, this controller is compatible with all current Panasonic PTZ models. Thanks to the improved GUI, now all important information about the cameras, such as iris, zoom and focus can be seen at all times directly on the screen. The AW-RP60 is also capable of supporting up to 200 cameras in 20 groups, manages 100 presets and comes with PoE support allowing for an easy integration. It will be available from October onwards.
"The PTZ camera range has rapidly become the market leading remote production solution for the mid-to-high-end market because of three distinct innovations," said Sivashankar Kuppusamy, Panasonic EMEA Manager Marketing at the Professional Video Systems Business unit. "PTZ is designed to deliver a high-quality image with natural colour reproduction to ensure colour adjustment functionalities comparable to Panasonic's flagship studio cameras. This visual quality is delivered alongside ease of use, with the system providing accurate and smooth movement in operation. Lastly, Panasonic's continued investment in workflow innovation consistently delivers new ways to reduce operational costs for a range of customers with diverse application demands."
The PTZ camera range is complemented by a range of third party robotic solutions on show at IBC that bring new levels of movement to remote camera live production workflows. Tecnopoint Tuning is an advanced robotic system that provides broadcast-quality movement of Panasonic PTZ cameras with the addition of varying combinations of motorised dollies, telescopic columns and ceiling/floor tracks.
Panasonic and Polecam have collaborated on developing the Panapod for remote cameras with the option of mounting up to 5 PTZs at one time using dedicated foot switches or controllers to elevate from 1.5m to 3m. The Panapod provides an unobtrusive camera position, great for the spectators, whilst not interfering with the artist, player, presenter or sequence being shot.
The KST-CamBot.system is a motion-control robotic camera system for beauty shots in television studios. Thanks to its innovative concept, it allows movements of high accuracy in a reduced space. Based on a software interface, the robotic arm can be fully automated with repeatable trajectories. The combination of KST-CamBot.system and AK-UB300 box camera or Varicam series creates a 4K-ready bundle that can be offered at news and sports studios, as well as concerts, entertainment shows and for Augmented Reality applications. The system is controlled via IP, allowing flexible and remote configurations.